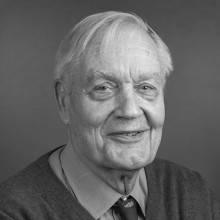 Frederick A. O. Schwarz, Jr.
Frederick A. O. ("Fritz") Schwarz, Jr. is chief counsel of the Brennan Center, which he joined full time in 2002. Since graduation from law school in 1960, Schwarz has had an uncommon career, mixing the highest level of private practice with a series of critically important public service assignments.
Schwarz's private practice was all at Cravath, Swaine & Moore, where he was a litigation partner with a broad and varied practice.
In 1975–76, Schwarz was chief counsel to the Church Committee (formerly known as the Senate Select Committee to Study Governmental Operations with Respect to Intelligence Activities). He was New York City corporation counsel under Mayor Edward I. Koch (1982–86). In 1989, he chaired the commission that extensively revised New York City's Charter, and in 2003–08 he chaired the New York City Campaign Finance Board.
Schwarz received an AB magna cum laude from Harvard College in 1957 and a JD magna cum laude from Harvard Law School in 1960, where he was an editor of the Harvard Law Review. After a year's clerkship with Chief Judge J. Lumbard of the U.S. Court of Appeals for the Second Circuit, he worked one year for the government of Northern Nigeria as assistant commissioner for law revision under a Ford Foundation grant. In 1963, he started at Cravath where he became a partner in 1969.
Schwarz has written three books. Democracy in the Dark: The Seduction of Government Secrecy (The New Press, 2015), illuminates one central question: How much secrecy does good governance require? His other books are Unchecked and Unbalanced: Presidential Power in a Time of Terror, written at the Brennan Center with Aziz Huq (The New Press, 2007), and Nigeria: The Tribes, the Nation, or the Race – The Politics of Independence (MIT Press, 1965). He has also written numerous op-ed and magazine articles, beginning with a 1966 article titled "The United States and South Africa: American Investments Support and Profit from Human Degradation."
Schwarz has long been involved in the nonprofit sector. Among many other things, he served for almost twenty years as chair of the boards of both NRDC and the Vera Institute of Justice, on whose boards he continues to serve. He also chaired the board of Atlantic Philanthropies and the Fund for the City of New York.
At the Brennan Center, Schwarz has tried three cases, testified frequently before Congress, edited various reports, and written substantially. While at the Brennan Center, he was awarded the New York State Bar Association's Gold Medal for distinguished service in the law, and the Ridenhour Courage Prize "in recognition of his life-long commitment to strengthening democracy and the rule of law."
Informed citizens are democracy's best defense