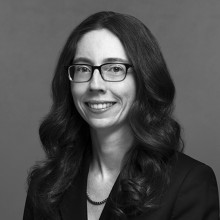 Alicia Bannon
Alicia Bannon is the director of the Judiciary Program at the Brennan Center for Justice, where she works to realize a fair and inclusive judicial system that protects fundamental rights, democratic values, and the rule of law. An experienced constitutional lawyer and expert on the courts and access to justice in the legal system, Bannon leads a team of lawyers and researchers engaged in policy advocacy, litigation, legislative campaigns, research and analysis, and public education. Bannon also serves as the editor-in-chief of State Court Report, a Brennan Center publication focused on state courts and state constitutional law.
Bannon is the author of numerous nationally recognized reports and pieces of legal scholarship, and she regularly writes and comments for media outlets such as the New York Times, Washington Post, Atlantic, Slate, MSNBC, and NPR. She has provided testimony, briefings, and policy advice to lawmakers across the country and taught as an adjunct professor at NYU School of Law and Seton Hall Law School.
Bannon has held numerous prior roles at the Brennan Center, including managing the Center's redistricting project and serving as the managing director of the Democracy Program. She first came to the Brennan Center as a Liman Fellow and counsel in the Justice Program.
Prior to joining the Brennan Center, Bannon was a John J. Gibbons Fellow in public interest and constitutional law at Gibbons P.C. in Newark, New Jersey, where she litigated a wide range of civil rights cases. She clerked for the Hon. Sonia Sotomayor in the United States Court of Appeals for the Second Circuit and the Hon. Kimba M. Wood in the United States District Court for the Southern District of New York. Bannon received her JD from Yale Law School and graduated from Harvard College summa cum laude with a degree in social studies. Prior to law school, Bannon worked in Kenya and Uganda, managing impact evaluations of education and health interventions, and at the Center for Global Development in Washington, DC.
Informed citizens are democracy's best defense