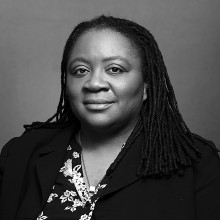 Paulette Hodge
Director, Direct Response & Donor Services,
Development
Paulette Hodge the direct response director for the Brennan Center. She brings more than 10 years of experience in fundraising and marketing, print, and digital communications to the role.
Prior to joining the Brennan Center, Hodge worked with the Ms. Foundation for Women, where she developed creative ways to engage supporters and donors. Prior to the Ms. Foundation, Hodge worked at Goddard Riverside Community Center as the direct marketing manager. Hodge also worked as the director of direct marketing at Safe Horizon, where she redesigned the website and increased revenue by 40 percent. Prior to this, Hodge was the communications manager at the animal rescue organization, Bideawee.
Hodge has also worked at Time Warner, Barnes & Noble, and Cablevision. She has BA degree in journalism from the School of Visual Arts and an MPA degree in nonprofit management from Baruch College.
Informed citizens are democracy's best defense