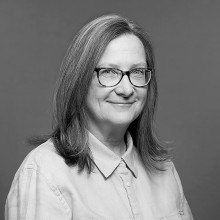 Mellen serves as Director of Special Events in the Brennan Center's Office of the President producing events featuring scholars in the law and issues related to democracy, justice and national security. In 2017 as Creative Director, she launched the Brennan Center's public events and podcasts series hosting well over a hundred live and virtual events. Guests included Debo P. Adegbile, Danielle Allen, Carol Anderson, Emily Bazelon, Preet Bharara, Kristen Clarke, Ta-Nehisi Coates, Donna Edwards, Vanita Gupta, Rick Hasen, Sherrilyn Ifill, Valerie Jarrett, Neal Katyal, Lawrence Lessig, Martha Minow, Melissa Murray, Janai Nelson, Alex Padilla, Susan Rice, Tim Scott, Darren Walker, Amy Walter, Christine Todd Whitman.
Prior to joining the Brennan Center, Mellen produced hundreds of live programs for San Francisco's venerable public forum, The Commonwealth Club of California. Programs featured politicians, economists, diplomats, tech titans, authors, artists, slam poets, scholars, journalists, academics, pop culture icons, and leaders of all stripes.
As an Emmy-nominated network television news and entertainment producer, Mellen spent many years producing shows, series and segments for ABC News, Good Morning America, The Barbara Walters Specials; CBS News, Oxygen Media, and The Travel Channel. Mellen holds a B.A. in History and Philosophy from Boston College.
Informed citizens are democracy's best defense