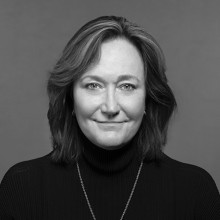 Lisa Benenson was the vice president for Communications and Strategy at the Brennan Center for Justice. In that role, she served on the organization's executive management team, and leads the Brennan Center's communications strategies and initiatives, marketing and brand, and digital presence.
Before joining the Brennan Center, Benenson worked at the United Nations as the deputy director of Communications for UNICEF, leading the organization's media, digital, and internal communications teams.
She had previously served as the chief communications officer for the Natural Resources Defense Council.
Before beginning her career in nonprofits, Benenson was a journalist. She was a consulting editor at Newsweek and the Daily Beast; the founding editor of Hallmark Magazine, and the editorial director at Working Mother and Working Woman magazines. Earlier in her journalism career, Benenson worked for Newsday, where she was a reporter and served as the assistant national editor, and for the Denver Post, where she held positions including metro editor and Sunday editor.
Benenson has appeared on NBC's Today Show and was a contributor for the Weekend Today Show. She has also appeared on NBC Nightly News, CBS Evening News, Oprah, Good Morning America, the Fox Report, and other national broadcast programs.
She is a board member at Polaris, a leading nonprofit in the fight to eradicate modern slavery, and at Riverkeeper, a New York organization that defends the Hudson River and its tributaries, protecting the drinking water supply of nine million New Yorkers.
Informed citizens are democracy's best defense