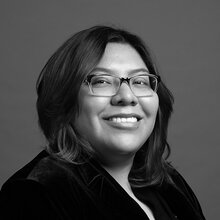 Janet Romero-Bahari is the production designer at the Brennan Center for Justice. She is the lead designer for reports, publications, event assets, and also supports photo research and social media graphics.
Before joining the Brennan Center, she was an in-house graphic designer at an educational publishing house. She oversaw two imprints and designed collateral ranging from catalog design, social media assets, and online ads.
Previously, she was the graphic design associate at Network for Teaching Entrepreneurship (NFTE), a nonprofit providing entrepreneurship training and educational programs to middle and high school students, college students, and adults. In this role, she supported and collaborated across all departments and 10 NFTE offices on marketing demands, such as presentations, printed collateral, branded swag, templates, and email design. She was the lead designer on all event assets across NFTE's national events. During her time at NFTE, she was a key member of their rebranding team. She holds a BA of Technology in Communication Design from New York City College of Technology.
Informed citizens are democracy's best defense