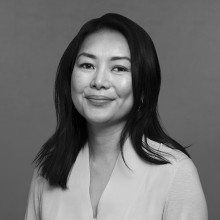 Jaemin Kim has served as Vice President for Development at the Brennan Center since 2021. She quickly grew the Center's development staff by one third. In the second year of her leadership, her expanded team – along with organizational leadership – shattered the Center's prior annual fundraising record by 70%
Kim manages a dynamic development operation that raises funds from 39,000 donors. Individuals and family foundations make up 70% of the Center's annual operating revenues, with institutional foundations and corporate philanthropy rounding out the Center's fundraising sources. She also oversees the Center's annual Spring gala – the Brennan Legacy Awards Dinner.
She joined the Center in 2011, and progressively took advanced roles to ensure the organization meets ambitious fundraising goals and grows its philanthropic partnerships. She began by writing foundation grants, helping to raise the Center's then $7 million budget. By the time she directed major donor relations five years later, the Center had tripled its revenues. By 2022, the Center's revenues doubled and the organization developed into a 160-person operation.
Kim started her career as a public interest advocate and lawyer. She advocated in housing court and administrative agencies in Queens, NY on behalf of low-income clients at Legal Services for the Elderly. At the NYCLU, she authored guidance for teenagers and healthcare providers on reproductive and health rights. And at Consumers Union (the nonprofit publisher of Consumer Reports) she advanced the protection of "publicly owned" charitable assets in the conversion of non-profit health insurers to for-profit status.
She received a J.D. from New York University School of Law and a B.A. from Rutgers University.
Informed citizens are democracy's best defense