Trump's "Voter Fraud" Commission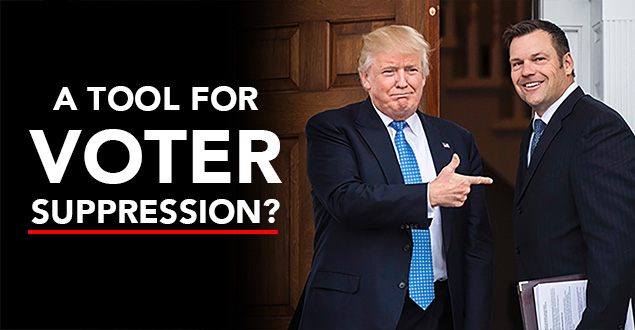 On May 11, 2017, President Donald Trump signed an executive order creating the "Presidential Advisory Commission on Election Integrity." The Commission is charged with studying "the registration and voting processes used in Federal elections" and identifying "vulnerabilities in voting systems" that could lead to voter fraud. Vice President Mike Pence is the chair, and Kansas Secretary of State Kris Kobach — a known promoter of voting restrictions and the myth of voter fraud — is the vice chair. It met for the first time on July 19 in Washington, D.C.
The Commission was created in the wake of President Trump's repeated assertions that millions voted illegally in the 2016 election. For years, claims of fraud have been used to justify unwarranted voting restrictions. There is strong reason to suspect this Commission is not a legitimate attempt to study elections, but rather a tool for enabling voter suppression.
---
Everything You Need to Know About the Commission

An overview of the events that led to the Commission's creation, what it has done so far, and why voting experts are concerned.

The work of the Commission could result in a wave of serious, new barriers preventing Americans from exercising their fundamental right to vote.

Study after study has demonstrated that fraud by voters at the polls is vanishingly rare, and members of President Trump's own party have refuted his assertions. Senate Majority Leader Mitch McConnell explicitly stated that we should not "spend any federal money investigating" voter fraud.

Commission Members' Controversial Records on Voting

Vice President Mike Pence is the chair of the Commission, and Kansas Secretary of State Kris Kobach is the vice chair. Four Commissioners — Kris Kobach, Hans von Spakovsky, J. Christian Adams, and J. Kenneth Blackwell — have particularly long track records of voter suppression.

Responses to the Commission's Request for Voter File Data

State and advocacy group responses to Kris Kobach's request for state voter file data.

Legal Actions Taken Against the Commission

Organizations have filed legal challenges against the Commission on a variety of transparency, privacy, and administrative policy grounds.

The Brennan Center and other civic groups have filed public records requests to better understand the Commission's goals, operations, and the steps that led to its founding.

The Brennan Center, along with public officials, the press, and a wide range of civic and nonpartisan groups, have criticized the Commission's composition and premises.
Recent Research
Recent Commentary
Recent Litigation