(Note: This updates the Roundup previously published on February 3, 2017.)
Following President Trump's
claim
that millions voted illegally in 2016, the White House announced that Vice President Pence is
assembling
a task force on voter fraud. Many fear that state legislators could use these claims to
justify
sweeping voting restrictions. So far, restrictive bills have passed through one legislative chamber in each of Arkansas, Georgia, North Dakota, and Virginia — and three cited
fraud
as
the
reason
the bill was needed.
As of February 23, 2017, every state but Louisiana and Florida has entered its legislative session.
At least 422 bills to enhance voting access have been introduced in 41 states.
At least 68 bills to restrict access to registration and voting have been introduced in 27 states.
New legislation cutting down on voting opportunities continues a longstanding trend. Following the 2010 election, 19 states passed 27 laws to make it harder to vote — often citing fraud prevention. More bills followed in the next four years. Although some laws were blocked by courts — partly because they found fraud to be nearly non-existent — voters in 20 states face new restrictions since the post 2010-wave began. Yet many states also expanded voting access in the same time period: At least 26 states and Washington, D.C., have passed bills to expand voting access since 2013.
In 2017, several legislative trends are emerging:
States continue to introduce voter ID laws, even with recent court action. Arkansas, North Dakota, and Pennsylvania all saw restrictive voter ID laws blocked by courts in recent years. Yet this session, lawmakers in all three states have introduced legislation that would enact, heighten, or reinstitute voter identification requirements. In Arkansas and North Dakota, the bills have already passed in one legislative chamber. Iowa legislators have also introduced voter ID legislation, including a proposal championed by Secretary of State Paul Pate. In Missouri, where a court blocked a voter ID law in 2006, the legislature might insufficiently fund voter education and free IDs needed for a new ID law passed in 2016, which could leave voters without the resources they need to vote under the new law, and election workers poorly equipped to administer it. And in Texas, senators introduced voter ID legislation. This bill comes seven months after the Fifth Circuit Court of Appeals ruled that Texas's current law discriminates on the basis of race in violation of the Voting Rights Act.
Voting restrictions target voter registration, following claims of fraud. Trump and his aides have identified two types of widespread illegal voting it claims occurred — noncitizen voting and people voting in multiple states. There is no evidence that either type of illegal voting, which involves ineligible individuals registering and casting ballots, is happening on any significant scale. Nevertheless, several states are considering legislation that would make voter registration more difficult by imposing strict citizenship verification requirements or by limiting a person's ability to claim state residency for voter registration. Oregon, Texas, and Virginia legislators introduced "show me your papers" bills requiring documentary proof of citizenship to register to vote, such as a birth certificate or passport. Virginia's bill has already passed one legislative chamber. In Kansas, where a similar law that blocked tens of thousands from registering was partially blocked by multiple courts, legislators have introduced more proof-of-citizenship legislation. Numerous states have also introduced measures to make claiming residency for voter registration more difficult, including in New Hampshire, where White House aide Stephen Miller claimed people were "bussed in" to vote.
A spike in laws restricting voting and registration assistance. In 2016, individuals and organizations that help others participate in elections faced threats in the form of investigations (in Georgia and Indiana) and legislation (in Arizona and Wisconsin). Attacks on civic groups are not new, and courts have stepped in to block them. Nevertheless, this year there are already proposed bills that would impose barriers to certain voting and registration assistance in six states. These bills would make it more difficult to help eligible citizens register to vote (Iowa, Virginia), help registered voters cast absentee ballots (Arizona, Montana, New York), or provide voting assistance to individuals with disability or language access difficulties (Texas).
Reforms garnering bipartisan support continue to be introduced. Legislators in at least 10 states have already introduced legislation to expand access — in ways that have garnered bipartisan in-state support in recent legislative sessions: Iowa, Illinois, Kentucky, Mississippi, Missouri, Montana, Oklahoma, Utah, Virginia, and Wyoming. These include expanding early voting access, restoring the right to vote for people with criminal convictions, and enacting automatic voter registration. Since 2013, at least 26 states passed positive reforms — including automatic registration — with bipartisan support, showing consensus reforms remain possible.
Expansive Legislation
As in previous legislative sessions, bills to expand access — at least 422 bills in 41 states — outnumber those that restrict voting and registration.
Automatic voter registration and other reforms to modernize voter rolls
Automatic voter registration (AVR) legislation and other bills that would modernize voter registration are very popular this legislative session, building on gains in the last two years. In early 2015, Oregon became the first state to pass AVR, and saw increased registration and turnout. Five additional states followed suit in 2015 and 2016 — including Alaska, where a ballot measure with substantial bipartisan support passed with 65 percent of the vote. Just last week, the reform went into effect in the District of Columbia. This session, bills to implement or expand AVR have been introduced in at least 28 states — Alabama, Arizona, Arkansas, Connecticut, Florida, Georgia, Hawaii, Indiana, Illinois, Iowa, Maryland, Minnesota, Mississippi, Missouri, Nebraska, New Mexico, New York, Ohio, Oklahoma, Nevada, Pennsylvania, Rhode Island, South Carolina, Tennessee, Texas, Utah, Virginia, and Washington. Meanwhile, bills that would modernize voter registration in other ways — such as by allowing registration online or on Election Day — have been introduced in 24 states.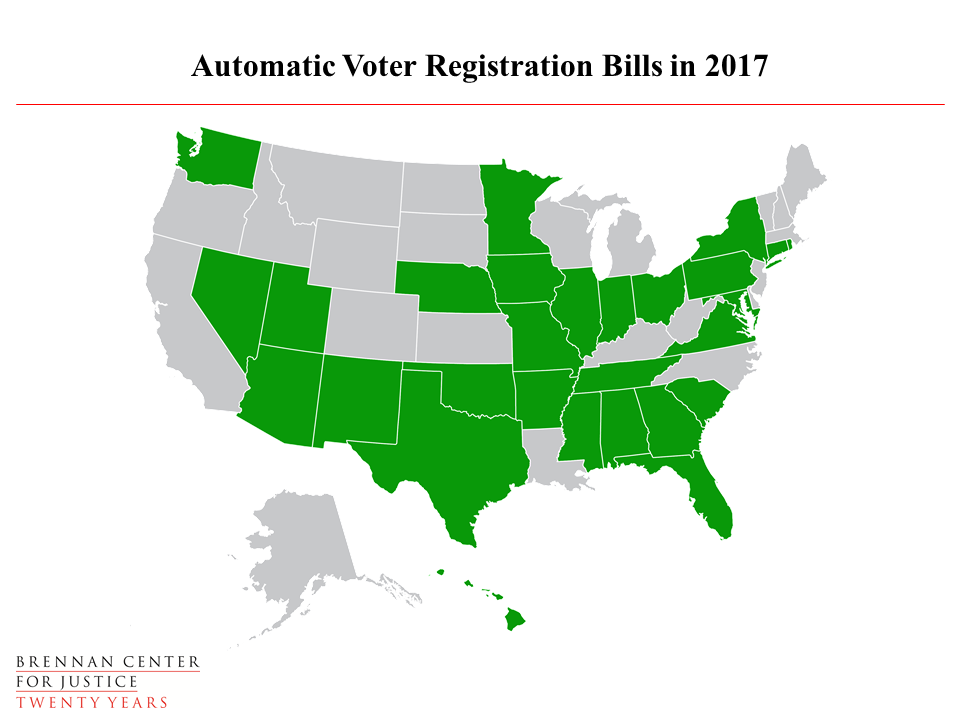 Early and absentee voting expansion
Fifty-one bills to increase early in person voting access have been introduced in 17 states. Eighty-five bills to increase access to absentee voting have been introduced in 25 states.
Restoring the right to vote
In 16 states, 42 bills to help restore the right to vote to persons with past criminal convictions have already been introduced.
Restrictive Legislation
Legislation posing acute threats to voters continues to circulate — there are 68 bills restricting access to the franchise introduced in 27 states.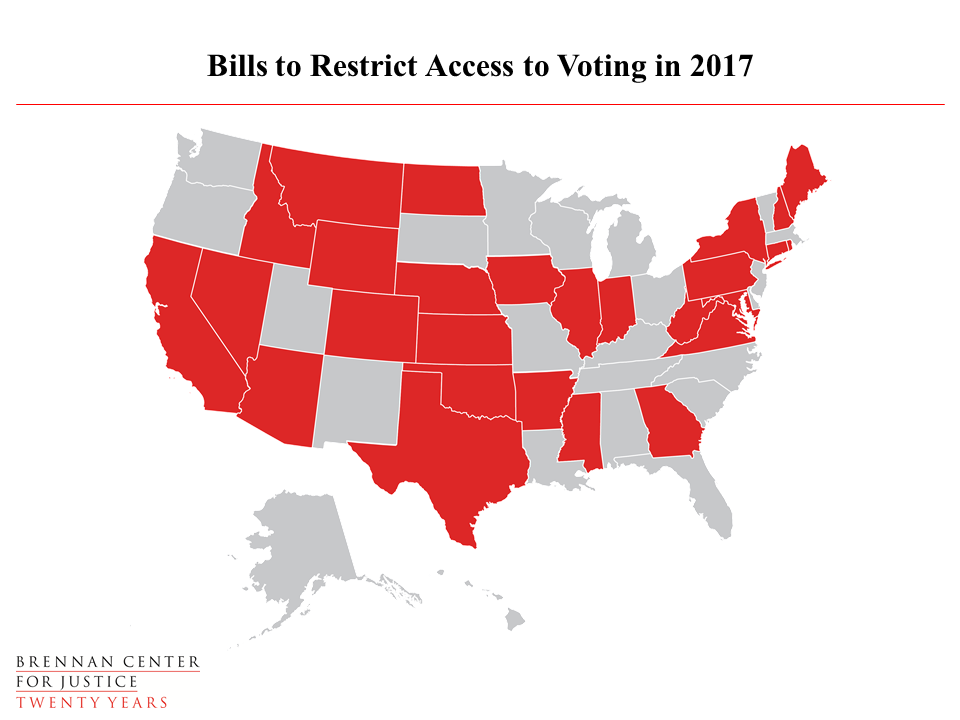 Voter ID
At least 16 states are already considering restrictive voter ID legislation — Arkansas, California, Illinois, Indiana, Iowa, Maine, Maryland, Montana, Nebraska, Nevada, New Hampshire, New York, North Dakota, Pennsylvania, Virginia, and Wyoming. Arkansas and North Dakota's bills have already passed in their state houses and are now being considered by the states' respective senates. Some of these bills would implement new voter ID requirements, while others would modify existing statutes to make them stricter or to attempt to restore restrictive laws previously blocked by courts.
Restrictions on voter registration
Fourteen states have introduced legislation that would make their voter registration system more burdensome, with at least three such bills in New Hampshire, in the wake of unfounded speculation that thousands of nonresidents voted there in 2016. Bills making it more difficult for students and others to claim residency have been introduced in Arizona, Maine, New Hampshire, and West Virginia. Legislation has been introduced to eliminate or limit Election Day registration in Connecticut, Illinois, Iowa, and New Hampshire. The Georgia state house has passed a burdensome "no match, no vote" requirement — a harmful practice that improperly rejected tens of thousands of registration applications in the state, and that the secretary of state recently agreed to stop in a settlement. Bills to impede community-based registration drives have also been introduced in Iowa and Virginia.
Restrictions on voting access
Legislators have also proposed bills that would cut down on voting access. Bills to limit absentee voting have been introduced in eight states: Indiana, Iowa, Kansas, Mississippi, Montana, Rhode Island, Texas, and Virginia. Legislators in five states have introduced bills to limit early in-person voting: Colorado, Idaho, Illinois, Iowa, and Texas. Also in Texas, a bill has been proposed to make it harder to offer voter assistance, undermining a court settlement last year.