Rudy Mehrbani on MSNBC: FBI Investigation on Judge Kavanaugh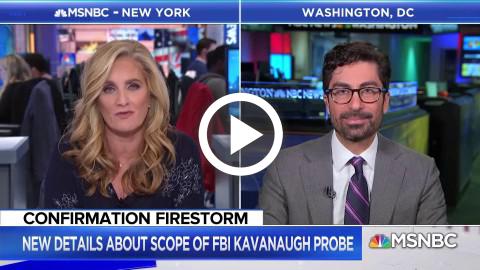 Rudy Mehrbani, Spitzer Fellow and Senior Counsel in the Brennan Center's Democracy Program, joins Alex Witt on MSNBC to talk about the one-week FBI investigation into Judge Kavanaugh. The following is a transcript of the interview:
Witt: Joining me now, Rudy Mehrbani, senior counsel and fellow at NYU Law School's Brennan Center for Justice. He is also a former White House insider, advising President Obama on hiring and vetting appointees and nominees.
Mehrbani: Good morning, Alex.
Witt: Good to have you here because I want your assessment of this whole spectacle of the senate hearing, Rudy, and how it might have gotten to this point. Because I'm guessing you would say this would not have happened in the Obama white House.
Mehrbani: Well, surely we would have done our due diligence in advance before moving a nominee forward. You know, we were very tough on our nominees in advance, making sure that there were no stones unturned, that we didn't rush the process, and that we allowed our staff and attorneys to do their due diligence. I can't say for sure, what this investigation will turn up [sic] how that might change the trajectory of things, but I have to say given what's been reported on this morning I'm very concerned about what has been reported as the White House almost taking this incredible step in tying the hands of the FBI and in limiting those that they are able to interview over the next week.
Witt: Overall, what's happening here? Is this just the White House being sloppy? Does this reflect on Don McGahn, who was the one who was pulling all the names and making the suggestions for Supreme Court nominees to the president as he did with Neil Gorsuch?
Mehrbani: Well, I'm not sure what specific individual might be at fault, but what I can say is that this appears to be more of the same in terms of how this White House respects the vetting process. You know, when I was directing the Office of Presidential Personnel, I took the perspective that vetting our candidates was an essential part of the process. You learn a lot about how they are going to be acting in their prospective positions, how they going to be dealing with a bureaucratic process that will test their patience, and whether or not these are the sorts of individuals who the president wants to put his imprimatur on. That was important to us and it was very important to President Obama. It does not appear that the same is the case for this White House. Remember, you're coming off a period of time where there have been background investigation issues previously with White House staff, you've seen vetting issues and ethics issues with other administration appointees and nominees. So at some point one has to ask, when is this going to stop? I mean, for Judge Kavanaugh you have at least three allegations of sexual assault that have been levied against him. Will President Trump at some point decide that maybe this is not my guy, that I can't continue to endorse him?
Witt: Rudy, if he decides that, let's say everything goes south for Brett Kavanaugh, is there time? I'm curious how this all works, the timeline and logistics here. Is there time to nominate somebody else and get him or her confirmed before the midterms?
Mehrbani: Tat's a good question, and I wonder if that thinking is what is driving the process at this point. There are a limited number of calendar days left for the Senate to do its work. It is possible that the White House has someone else in the hopper. Oftentimes for particularly senior positions you would vet multiple individuals to ensure that the president had options in deciding who to move forward with. I can say as I mentioned that because we viewed the vetting process as so critical there were some times when a final decision wouldn't be made until we completed the vetting process of multiple candidates. So perhaps the same was done here, but we don't know.
Witt: Based on your experience, look, with every president there are always outside forces, something of that political nature, they push for certain candidates. How much does a president have to take that into consideration? Did progressive or liberal groups push on President Obama?
Mehrbani: Look, there is a lot of stakeholders at play and there's always outside factors. You would think that given the Me Too movement that that would have been at play in assessing the continued support for Judge Kavanaugh. I think that there's a lot of factors that go into the selection of an individual and it changes depending on the position, the individual, and the circumstances.
Witt: Rudy Mehrbani, senior counsel and fellow at NYU Law School, thank you so much. Good to see you. Come back and see us again.
Mehrbani: Thank you very much, Alex.