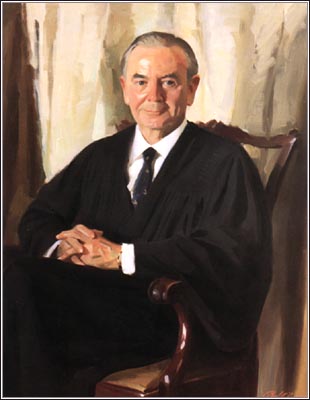 Justice William J. Brennan, Jr. is universally regarded as one of the most influential and liberal justices of the second half of the 20th century. His 34 years on the U.S. Supreme Court was one of the Court's longest tenures, spanning eight presidencies and 17 Congresses. During that time he served with 22 justices, wrote 461 majority opinions, 425 dissents, and 474 other opinions. Brennan's legacy was so powerful and far-reaching that even those who disagreed with his opinions still recognized his singular influence. According to the conservative National Review in 1984, "there is no individual in this country, on or off the Court, who has had a more profound and sustained impact upon public policy in the United States."
Born in 1906 to Irish immigrants, Brennan grew up as witness to the economic hardships and indignities of those in his hometown. "What got me interested in people's rights and liberties," Brennan would later recall, "was the kind of neighborhood I was brought up in. I saw all kinds of suffering—people had to struggle."
Despite his humble beginnings, Brennan excelled academically. He completed his law degree at Harvard and entered private practice in his home state of New Jersey. But when his practice intruded on his devotion to his family, Brennan opted for service as a trial judge. He was promoted to the state's highest court in 1952 and was appointed to the Supreme Court in 1956 by President Dwight D. Eisenhower.
Justice Brennan's devotion to core democratic freedoms was unwavering. He authored important opinions in the areas of free expression, criminal procedure, and reapportionment. As a result of his leadership, Brennan imparted his constitutional vision to a broad coalition of his colleagues. He resigned on account of health in 1990.
---
Leading Decisions by Justice Brennan
Baker v. Carr, 369 U.S. 186 (1962) [2]
NAACP v. Button, 371 U.S. 415 (1963) [3]
Sherbert v. Verner, 374 U.S. 398 (1963) [4]
New York Times v. Sullivan, 376 U.S. 254 (1964) [5]
Green v County School Board, 391 U.S. 430 (1968) [6]
Shapiro v. Thompson, 394 U.S. 618 (1969) [7]
Goldberg v. Kelly, 397 U.S. 254 (1970) [8]
Frontiero v. Richardson, 411 U.S. 677 (1973) [9]
Thornburgh v. Gingles, 478 U.S. 30 (1986) [10]
Communications Workers of America v. Beck, 487 U.S. 735 (1988) [11]
United States v. Eichman, 496 U.S. 310 (1990) [12]
Quotations
On the Constitution [13]
On Judging [14]
On Freedom of Speech [15]
On Justice for the Poor [16]
Memorials
Memorial Resolution of the Bar of the U.S. Supreme Court [17]
Eulogy, by Justice David H. Souter [18]
Selected Articles About Justice Brennan
Brennan: An American Hero [19], Washington Post, 7/29/97
A Man in Close Touch With People as Well as With History [20], The New York Times, 7/22/90
A Life on the Court [21], The New York Times Magazine, 10/5/86
---