Voting Newsletter: Supreme Court Strikes Down Key Voter Protection, Congress Must Act
Latest Developments
Supreme Court Strikes Down Key Voter Protection, Congress Must Act
The U.S. Supreme Court Tuesday overturned a key provision of the Voting Rights Act, removing a critical tool to combat racial discrimination.
What Happened?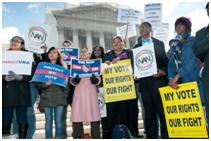 Under Section 5 of the landmark civil rights law, jurisdictions with a history of discrimination must seek pre-approval of changes in voting rules that could affect minorities. In Shelby County v. Holder, the Court invalidated Section 4 — which determines the states and localities covered by Section 5 — arguing that current conditions require a new coverage formula.
What's Next?
Without Section 5, state lawmakers may try to launch a new wave of discriminatory voting measures, some of which were previously blocked or deterred by the law, according to a Brennan Center report released just weeks before the decision.
The Texas attorney general, for example, has already announced that a voter ID law blocked by Section 5 last year will go into effect. Photo ID laws passed in recent years in Alabama, Mississippi, and Virginia, which did not yet obtain pre-approval, can now go into effect without undergoing Section 5 scrutiny.
Other states may also try to push new voting restrictions. North Carolina legislators, citing the Court's decision, could begin voting next week on a series of curbs, including a photo ID requirement, reductions in early balloting, and eliminating same-day registration.
How Can We Fix It?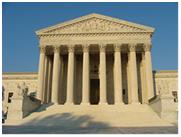 The Supreme Court's decision leaves it to Congress to update the formula governing which jurisdictions require federal oversight of voting rules. Considering Congress voted nearly unanimously in 2006 to reauthorize the Voting Rights Act, voting reformers are hopeful lawmakers can come up with a fix.
"It is fair to question whether congressional dysfunction will stall a legislative response to this ruling," wrote the Brennan Center's Myrna Pérez in The Christian Science Monitor. "But on an issue as important as the fundamental right to vote, advocates remain confident America's leaders can come together in a bipartisan way. They must."
More Brennan Center analysis on the decision:
Watch Brennan Center President Michael Waldman discuss the case on MSNBC's "Now with Alex Wagner."
To minority citizens, the Voting Rights Act reinforced the promise that America still guarantees fair and equal treatment under the law, wrote Nicole Austin-Hillery at BillMoyers.com. Tuesday's Court decision broke that promise.
The Shelby County decision is "a sad day for our democracy," wrote Wendy Weiser on the Brennan Center blog, but Congress has the opportunity to replace what was lost.
For a comprehensive guide to stories about the Supreme Court's ruling, visit the Election Law Blog.
---
State Updates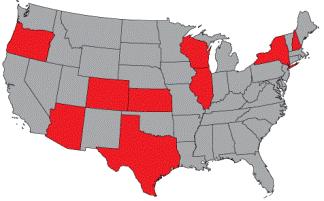 Arizona – The Supreme Court this month upheld a Ninth Circuit ruling invalidating an Arizona law requiring proof of citizenship to register. The Court cited Congress's power to regulate federal elections under the 1993 National Voter Registration Act, commonly known as Motor Voter. Although Wendy Weiser praised the ruling in an op-ed for CNN.com, she said it was a stark reminder of the need to modernize elections. "Motor voter was the solution for the 20th century, but it has relied on error-prone paper forms and the mail," she wrote. "There are better solutions for the 21st century."
Colorado – Secretary of State Scott Gessler (R) sent letters questioning the citizenship of nearly 300 registered voters, with 63 responding to affirm their right to vote. Gessler sent nearly 4,000 similar letters before last year's election, some of which went to voters who were citizens, raising alarms with voting advocates who worried it could scare eligible voters away from the polls. "I think it is a bit of a waste of time," said State Rep. Dickie Lee Hullinghorst (D). "Clearly he's not getting results."
Kansas – Two men blocked from voting in 2012 because they lacked a photo ID filed a lawsuit this week challenging the state's ID requirement. The retirement home residents didn't have access to birth records necessary to get a photo ID, and they do not "own computers or the resources to apply for a free ID from the state."
Illinois – The legislature passed a bill instituting online voter registration, which Gov. Pat Quinn (D) is expected to sign.
New Hampshire – A compromise voter ID bill passed the legislature Wednesday, which the governor plans to sign. The law allows student IDs to be used for voting and lets voters over 65 use expired driver's licenses to cast a ballot. It also delays until 2015 a requirement that election workers photograph voters who lack photo ID.
New York – State lawmakers passed a bill to reinstate old lever voting machines for the 2013 elections in New York City, responding to concerns from election officials that new electronic machines cannot count votes "fast enough to smoothly administer this year's mayoral" race. Advocates worry the decades-old machines could break down. Read more here.
Oregon – Citizens would be automatically registered to vote under a bill passed by the state House this week. "The measure is the centerpiece of a drive by Secretary of State Kate Brown to give Oregon one of the most expansive voter rolls in the nation," wrote The Oregonian. It now heads to the Senate where it "faces a more difficult test."
Texas – Rep. Marc Veasey (D-Texas) and others filed a lawsuit to stop enforcement of the state's voter ID law. As explained above, the law was previously blocked under Section 5, but will now go into effect after the Shelby County decision.
Wisconsin – State lawmakers are working on a bill to allow online voter registration, which backers say will boost turnout.
Click here to see the Brennan Center's comprehensive list of 2013 state voting proposals.
---
New Data and Research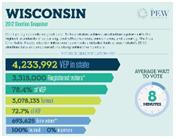 The Pew Charitable Trusts examined election data to determine how each state performed in 2012, focusing on voter turnout, wait times at the polls, and rejection of absentee and provisional ballots. The goal of the 2012 State Elections Snapshots is to "help states achieve an election system with the highest standards of accuracy, cost-effectiveness, convenience, and security." The first snapshots available are for the District of Columbia, Maryland, Ohio, Washington, and Wisconsin. More will be released this year.