Voting Newsletter: Maryland Rights Restoration, Texas Photo ID Blocks Voters
Latest Developments
Rights Restoration Bill Heads to Maryland Governor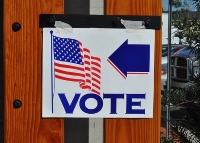 The Maryland legislature overwhelmingly approved a bill last week to restore voting rights to nearly 40,000 citizens with past criminal convictions.
Current Maryland law prohibits individuals from voting until they have finished probation and parole. The new measure — which now heads to Gov. Larry Hogan (R) for his signature — simplifies the process by allowing an individual to become eligible to vote when released from prison, or if they were never incarcerated in the first place.
"Americans believe in second chances," said Tomas Lopez. "Restoring a person's right to vote once they've paid their debt to society gives them an opportunity for redemption and a chance to be full members of their community."
The measure was supported by a broad array of Maryland groups who form the Unlock the Vote coalition, which includes faith, racial justice, and civil rights leaders.
Maryland's action comes as rights restoration continues to gain bipartisan support, with bills introduced in Congress and several states in recent months. More than 20 states, including Maryland, have improved their criminal disenfranchisement laws over the past two decades.
Texas Photo ID Law Blocks Legitimate Voters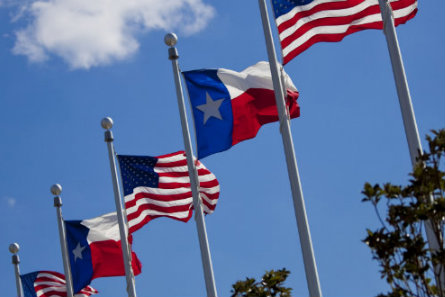 The Fifth Circuit Court of Appeals is scheduled to hear oral argument April 28 on Texas's strict photo ID law.
A federal judge struck down the measure in October 2014, finding 600,000 registered voters lacked the photo ID now needed. The requirement, the judge ruled, makes it harder for minorities to vote, was enacted to intentionally discriminate against minorities, and unconstitutionally burdens the right to vote.
The Supreme Court, however, allowed Texas's law to remain in place for the November 2014 election — and voters paid the consequences. Unprotected by the courts, the Brennan Center spoke with many Texans who found the photo ID requirement confusing and several who were prevented from voting entirely. The Center — which is part of the legal team representing the plaintiffs in the case — shared stories of several of those voters this week.
Sheileh Hejny, 68, was born in Texas and has voted since she was 21, but she could not vote last November. Her driver's license is expired, but she does have photo identification — a military survivor's ID. When she tried to use it during early voting, however, poll workers refused to accept it because they said it was expired. Ms. Hejny said making her voice heard is very important to her, especially because her husband spent time in the military, and the two of them always voted. She will not be stopped again, and plans to vote in the next election.
Kim Stanger, 55, is a retired kindergarten teacher in Ben Wheeler, Texas who votes regularly. She did not have her driver's license when she went to the polls in November and was ultimately unable to vote, despite casting a provisional ballot with the correct information, including her driver's license number. About a week after submitting the ballot, Ms. Stanger received a letter claiming her driver's license number, which she has memorized, was missing from the form. She mailed in the number again but received another letter saying the ballot was rejected for lack of a driver's license number. She received no responses from multiple follow up phone calls.
Daniel Menchaca, 61, of El Paso also couldn't vote in 2014. He has a civilian-worker ID from his job at a federal agency. It has his picture and an expiration date and he needed to undergo thorough background checks to receive it. "I understand that they want you to show an ID, but my card was issued by the federal government," he said. "My ID is good enough to get on a military base, but it's not good enough to vote?"
The Brennan Center will release more voter stories in advance of the April 28 argument.
---
State Updates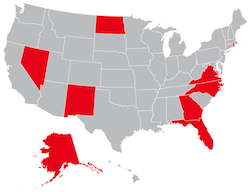 Alaska – A bipartisan duo introduced bills in the Senate and House to allow online and same-day registration. Although it may be too late in the legislative session to pass this year, the sponsors hope their plan will be in place by 2016.
Florida – Secretary of State Ken Detzner (R) opposed a new bill to add online registration by 2017, questioning whether the state's computer database has "adequate security" to move to such a system. All 67 county election supervisors support online registration, and the proposal has bipartisan support in the legislature.
Georgia – A bill to cut the number of early voting days from 21 to 12 failed earlier this month, MSNBC reported.
Nevada – Two voter ID bills were sent to a committee for financial review earlier this month. Both measures would require the Nevada Department of Motor Vehicles to distribute free ID to those who lack proper voting identification.
New Mexico – Gov. Susana Martinez (R) signed an online registration bill last Friday, which received unanimous support in the legislature. The proposal will allow voters to update their information online starting in 2016 and register starting in 2017.
North Carolina – The U.S. Supreme Court last week declined to hear a challenge to the state's controversial voting changes. The Fourth Circuit Court of Appeals preliminarily blocked two portions of the law before the 2014 election, but the high court reversed that order, allowing the changes to remain in effect. A full trial is scheduled for July in the district court.
North Dakota – The Senate last week approved changes to the state's voter ID bill, but eliminated a provision that would have issued student certificates to help college students vote.
Rhode Island – New Secretary of State Nellie Gorbea (D) is pushing a voting modernization package that includes online registration and early voting.
Virginia – The Board of Elections Tuesday voted to decertify one-fifth of the state's voting machines after a recent study found serious security and accuracy problems.
Click here for the Brennan Center's list of 2015 state voting proposals.
---
Media Round-Up
New legislative sessions have brought a flurry of redistricting bills from both Democrats and Republicans in 2015 — no fewer than 87 as of April 7, according to a new Brennan Center analysis. Read more in our Redistricting Round-Up and sign up here to receive monthly updates.
Legislators in 36 states have introduced 128 voting reform bills in 2015, with 52 restrictive bills proposed in 24 states, according to a report released last week from Project Vote.
With the 2016 presidential race under way, voting rights will continue to be a contentious topic as states look to solidify election rules before next year. MSNBC reported on Hillary Clinton's previous support for robust voting protections and her work as a senator to expand access to the ballot. Sen. Rand Paul (R-Ky.) has also made restoring voting rights to people with past criminal convictions a key element of his campaign.