Voting Newsletter: Long Lines One Year Later
Latest Developments
Long Lines One Year Later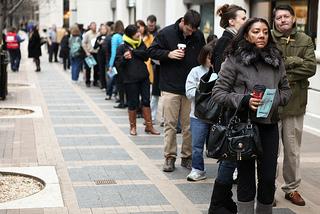 Voters head to the polls today, one year after President Obama said "we have to fix" the long lines that marred the 2012 election. In the year since, an encouraging number of states have taken steps to provide voters more access to the ballot box, writes the Brennan Center's Myrna Pérez at MSNBC.
In 2013, 10 states passed 13 laws to expand voting. Unfortunately, eight states passed nine laws to restrict access. To make matters worse, for the first time in almost 50 years, voters in some places will head to the polls without a critical protection under the Voting Rights Act.
President Obama has also taken a first step to help solve the long lines problem. He appointed a bipartisan commission earlier this year to improve the voting experience, which will submit recommendations in December. The Brennan Center is urging the commission to push voter registration modernization.
New Study Offers Seven Early Voting Ideas to Improve Elections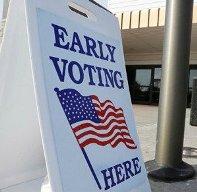 The Brennan Center released a report last week detailing the benefits of early voting programs and offering recommendations to improve the outdated election process.
"The benefit of early and in person voting is that you can have 20 or 30 percent of electorate voted before the election day so if something comes up you have a lot more hands on deck and less people at the polls," Diana Kasdan told Time.
Thirty-two states and the District of Columbia allow voters to cast ballots in person before Election Day. At least 20 states considered proposals to start or expand early voting this year. These efforts are expected to continue in legislative sessions next year, with opportunities anticipated in Massachusetts, New Jersey, and New York, among other states.
Read more on the report from Brennan Center Fellow Andrew Cohen and The Guardian.
---
State Updates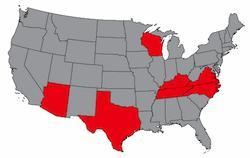 Arizona – The two-tier voting system state officials plan to put in place — one for federal elections and one for state contests — would alone cost Maricopa County, the state's most populous, an extra $250,000 per federal election cycle, according to research from the Pew Charitable Trusts. The county has about $3.75 million budgeted for the 2014 election.
Kentucky – The Brennan Center's Myrna Pérez urged Kentucky lawmakers to restore voting rights to persons with past criminal convictions. Testifying before an election taskforce, Pérez noted that restoring voting rights can reduce recidivism. Kentucky is one of only three states that permanently disenfranchise those with criminal convictions in their past.
North Carolina – Gov. Pat McCrory (R) asked a federal court to dismiss a challenge to the state's recent package of voting restrictions. One twist: Attorney General Roy Cooper (D) has publicly denounced the laws, but is obligated to defend them. Cooper is expected to challenge McCrory in the 2016 gubernatorial race.
Tennessee – The state Supreme Court unanimously upheld Tennessee's voter photo ID law. In response, Rep. Steve Cohen (D) introduced a federal bill that would require state and federal public assistance offices to tell clients about ID requirements and help them obtain one free.
Texas – Today's election will be the first test of the state's new voter ID law. It's already causing problems, particularly for women. District Court Judge Sandra Watts was forced to file an affidavit along with her ballot because the name on her voter registration did not match her ID. "What I have used for voter registration and for identification for the last 52 years was not sufficient yesterday when I went to vote," she told KIII-TV. Watts is hardly the only state official with an ID problem. Both candidates expected to face off in next year's gubernatorial race — State Sen. Wendy Davis (D) and Attorney General Greg Abbott (R) — will also need affidavits to vote because of name discrepancies. Abbott has been one of the laws strongest proponents. Former U.S. House Speaker Jim Wright, a "legendary Texas political figure," also had trouble getting a voter ID card.
Virginia – Both candidates in the gubernatorial race, Terry McAuliffe (D) and Ken Cuccinelli (R), support restoring voting rights to nonviolent ex-offenders.
Wisconsin – A federal judge will weigh the state's voter ID law at a trial beginning this week. Read more here.
Click here for the Brennan Center's comprehensive list of 2013 state voting proposals.
---
Media Round-Up