Voting Newsletter: Justice Department's Bold Voting Rights Move
Latest Developments
Justice Department Moves to Enforce Voting Rights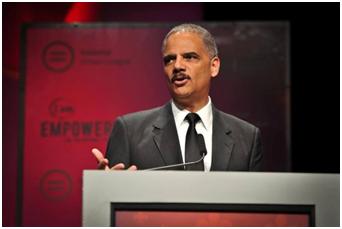 The Department of Justice moved yesterday to enforce voting rights following the Supreme Court's ruling gutting a key provision of the Voting Rights Act.
Attorney General Eric Holder announced Thursday the Justice Department will formally back a suit seeking to require Texas to obtain federal government approval before changing its voting rules. Last month's 5-4 Supreme Court decision effectively gutted this "pre-clearance" process, known as Section 5, by striking down the formula that determines which jurisdictions must seek pre-approval.
"This is the department's first action to protect voting rights following the Shelby County decision, but it will not be our last," Holder said Thursday. "Even as Congress considers updates to the Voting Rights Act in light of the court's ruling, we plan, in the meantime, to fully utilize the law's remaining sections to subject states to preclearance as necessary."
Holder's action uses Section 3 of the Act, which allows a court to "bail-in" a jurisdiction to the pre-clearance process if it has a history of discrimination. "Section 3 has been been seldomly used, but given there's no functioning Section 5, we will see increased utilization of remaining tools," said Myrna Pérez, deputy director of the Brennan Center's Democracy Program.
If the Justice Department's strategy is successful, it will protect voters even without action from Congress, which last week began contemplating how to revise this key protection.
Watch Brennan Center President Michael Waldman discuss Holder's move on MSNBC's "Now with Alex Wagner."
Without Voting Protections, North Carolina Lawmakers Push New Restrictions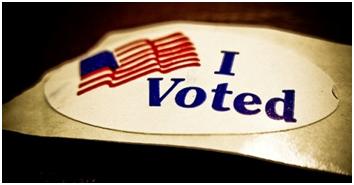 The North Carolina legislature passed a law Thursday that would make it harder for some citizens to cast a ballot, making it the first state to pass new restrictions since last month's Voting Rights Act ruling.
House Bill 589 passed 33-14 in the Senate and 73-41 in the House. It now heads to the governor for his signature. Reports say the measure would institute a strict photo ID requirement, repeal same-day registration, and eliminate rules that encourage young people to register, among other curbs.
Previously, North Carolina would have submitted the bill to the federal government to ensure it is not discriminatory. But the Supreme Court's Voting Rights Act decision removed that oversight. In a June report, the Brennan Center explained how state lawmakers might push new voting restrictions after the Court's decision. Read more background on the North Carolina law here and here.
---
State Updates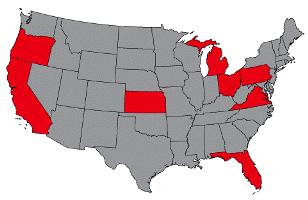 California – The state Assembly is considering a bill to increase online voter registration. It would require state websites to include a link to the voter registration page on the Secretary of State's website.
Florida – Election officials in Broward and Miami-Dade counties will reorganize hundreds of precincts to shorten wait times at the polls.
Kansas – More than 12,000 residents who tried to register "remain in limbo" because of a problem with the state's new proof-of-citizenship law. Read more here.
Michigan – Secretary of State Ruth Johnson is working with lawmakers to draft a law allowing online registration and expanding absentee voting.
Ohio – Election officials must count all provisional ballots, even those cast in the wrong precinct because of poll-worker error, a federal judge ordered. Read more here.
Oregon – The state senate rejected a bill that would have automatically registered "eligible voters when they received a new or updated" driver's license.
Pennsylvania – The trial over Pennsylvania's voter ID law entered its second week. Opponents of the measure presented data showing 511,000 registered voters lack the required ID. "The first time in my life I did not vote," testified Marian Baker, 71, who did not go to the polls in November 2012 because she was told she needed an ID.
Virginia – The state's online voter registration system is now up and running. Meanwhile, because "Virginia does not have a statewide felon database or electronic records before 1995," officials are running into problems restoring voting rights to nonviolent ex-offenders.
Click here to see the Brennan Center's comprehensive list of 2013 state voting proposals.
---
New Data and Research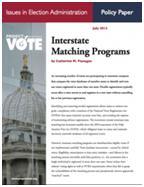 In the latest installment of its Issues in Election Administration series, Project Vote released a policy paper on interstate voting compacts, which allow states to compare voter registration databases to identify voters who may be registered in more than one state. However, the study found that such a system is hardly foolproof, and "can end up removing eligible voters from the rolls."
---
Media Round-Up
What would a new Voting Rights Act look like? Any plan must include a modern voter registration system, argued the American Enterprise Institute's Norman Ornstein in The Washington Post. Read the Brennan Center's modernization proposal.

At Reuters, Ari Melber explained how Congress could fix the VRA, outlining a national standard that "would only trigger supervision for places where local governments continue to practice voter discrimination." Read more at Slate.

"Sometimes we see this story as one of Martin Luther King and Lyndon Johnson," historian Gary May, author of a new book on the VRA, "Bending Toward Justice," told Bill Moyers. "They get together and we have the Voting Rights Act. But, of course, it's a much larger story." Also read Justice John Paul Stevens's take on the book and the Supreme Court's recent decision in The New York Review of Books.