Voting Newsletter: The Future of Section 5, Shelby County Roundup, and more
The Future of Section 5 of the Voting Rights Act
One week after the Supreme Court heard oral argument in Shelby County v. Holder, court watchers are still debating Section 5's future and the possible new contours of the legal landscape.
Section 5 requires certain jurisdictions secure federal approval before changing voting rules. Known as the "preclearance" process, it is designed to prevent racial discrimination in voting.
The Argument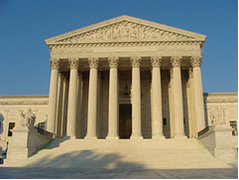 Aside from Justice Antonin Scalia's controversial comments on "racial entitlement," and Chief Justice John Roberts' question on whether the South is more racist, much of the argument centered on a statistical formula that determines in which states and localities Section 5 applies. Among the factors considered are minority voter registration and turnout rates, and whether election materials are provided only in English in areas with large numbers of non-English speaking citizens.
Section 5's opponents have two central arguments. First, they claim the data used to justify extending the law is out of date and as the election of Barack Obama demonstrates, the problems Section 5 sought to solve have been cured. Second, Shelby County's lawyer claims, Section 5 is an "unusual remedy" because it infringes on a state's "core sovereign functions" by requiring pre-approval for voting rule changes. Yet, when Congress extended Section 5 in 2006 (for another 25 years), it held more than 20 hearings and considered 15,000 pages of evidence. Lawmakers ultimately decided the formula still captured the worst offenders of voting discrimination. This determination deserves deference because the 15th Amendment gives Congress broad powers to combat race discrimination in voting, the Brennan Center argued in its amicus brief.
Read the transcript or listen to the audio of the oral argument.
Predictions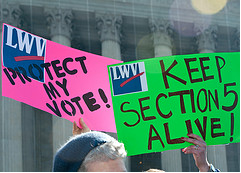 Most initial news accounts said the five conservative justices appeared skeptical of Section 5, and it was doomed. Some legal scholars agreed, including UC-Irvine Law's Rick Hasen, who wrote he has "no hope that the Voting Rights Act will continue in its current form after the Supreme Court is done with it."
Others give Section 5 a better chance, pointing to similarly dire predictions in a 2009 case, NAMUDNO, involving the preclearance provision. "They were wrong in NAMUDNO, and while only time will tell, I think they will be wrong in Shelby County," observed the Center's Myrna Pérez. Lyle Denniston, a veteran Supreme Court reporter, wrote that Justice Anthony Kennedy might find a way to "allow the law to survive for some time more." Will Kennedy cast the swing vote? Cato's Ilya Shapiro offered a cautionary note. "Kennedy is indeed the most likely swing vote — but of course that's what the conventional wisdom also said about [the health care case]."
What's Next?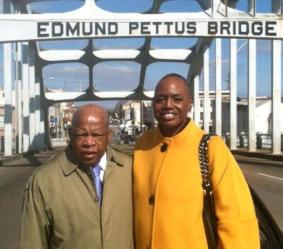 What happens if Section 5 falls entirely? Voting changes will take effect with far less scrutiny before implementation. The other tools for challenging discriminatory voting rules will remain, but the timing for remedial action will change. For example, Section 2 of the Voting Rights Act also prohibits voting discrimination and applies nationwide. Where Section 5 requires federal approval in some jurisdictions before voter changes take effect, Section 2 generally results in challenges after the measure is in place. But some Justices seem to believe Section 2 will work just as well as Section 5 to combat voting discrimination. J. Gerald Hebert and Armand Derfner, two lawyers who litigated scores of Section 2 cases in their combined nearly 90 years of practice, strongly disagree. "The bottom line is that Section 5 is a form of 'opt-out' requirement: it catches all potential voting discrimination," they wrote at the Campaign Legal Center. "Section 2 is the equivalent of an 'opt-in' requirement: only those discriminatory changes as to which the many high hurdles of Section 2 can be overcome (finding a lawyer, bringing a suit, financing it, winning it, and doing so in time) will be blocked."
(Bottom photo: Rep. John Lewis with the Brennan Center's Nicole Austin-Hillery on the Edmund Pettus Bridge. Austin-Hillery joined a congressional delegation in Alabama last weekend commemorating "Bloody Sunday," a March 7, 1965 attack on civil rights protestors. She wrote about her experience in The Washington Post.)
---
Shelby County Media Round-Up
---
State Updates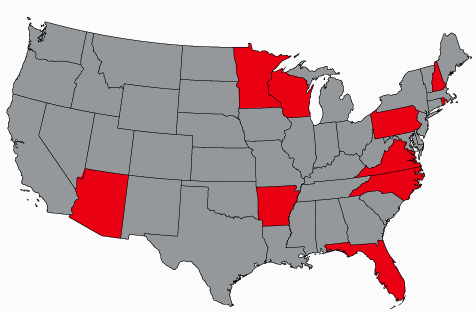 Arizona – GOP State Rep. Bob Worsley introduced a bill "to create an online voting pilot program before the 2014 primary election."
Arkansas – The state House delayed a vote on a photo ID bill. The Senate has already approved the measure.
Florida – A hacker submitted more than 2,000 absentee ballot requests in three races in Miami-Dade County, all of which were flagged by the elections department as suspicious. Six months later, after a grand jury investigation did not produce any indictments, "there still are few answers about the phantom requests," The Miami Herald reports. Read more here.
Minnesota – State Democrats are moving forward with a package of election reforms, which include more early voting opportunities and eased absentee ballot requirements. Gov. Mark Dayton (D), however, said he will not sign a bill without bipartisan support. Read more here.
New Hampshire – The Department of Justice granted a bailout to the portions of New Hampshire covered by Section 5, meaning they are no longer subject to the law. Read more background on the bailout provision.
North Carolina – House Republicans are moving forward with a voter ID bill. Read more here.
Pennsylvania – Despite a law requiring photo ID, voters will not need them in a May 21 primary for judicial and municipal offices. Both sides in a suit challenging the law agreed to suspend the measure. The case is set for trial July 15.
Rhode Island – The state legislature is considering a bill to allow early voting.
Virginia – The state legislature has passed a highly-restrictive photo ID law, which awaits GOP Gov. Bob McDonnell's signature. McDonnell has not indicated if he will veto the measure, but his spokesperson said the governor is satisfied with the state's current voting requirements. "Following last year's changes in our voter identification laws to further protect the integrity of the electoral process, Virginians turned out in high numbers to vote in the presidential election," said spokesman Tucker Martin.
Wisconsin – "Eliminating Election Day voter registration in Wisconsin would cost taxpayers between $13.1 million and $14.5 million," according to a new report from the Government Accountability Board, a non-partisan state agency. Some Republican lawmakers want to eliminate Election Day registration, saying it is too burdensome for local officials and can lead to voter fraud.
---
New Data and Research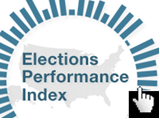 The Pew Charitable Trusts released a 50-state interactive guide measuring election administrative performance. Scores are "based on 17 measurable indicators such as polling location wait times, availability of voting information tools online, the number of rejected voter registrations, the percentage of voters with registration or absentee ballot problems, how many military and overseas ballots were rejected, voter turnout, and the accuracy of voting technology." Read the full report.
Report on 'Broken' Voting System
Election Protection, a coalition of non-profits coordinated by the Lawyers' Committee for Civil Rights Under Law, issued a report that "provides a snapshot of the endemic problems that continue to plague American elections and sets the stage … to finally address the enduring difficulties that infect the voting process of this country." Read the full report.