Voting Newsletter: DOJ Challenges North Carolina Restrictions
Latest Developments
Justice Department Challenges North Carolina Restrictions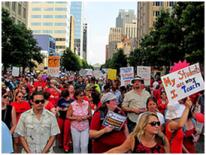 The Department of Justice asked a federal court Monday to block North Carolina's voting restrictions, the Department's latest effort to protect voters following the U.S. Supreme Court's ruling gutting a key provision of the Voting Rights Act (VRA).
The suit has two parts. The first asks the court to block the state's law under Section 2 of the VRA, which prohibits voting rules that discriminate against minorities. The second asks the court to use another provision of the VRA, Section 3, to order North Carolina to gain federal approval before implementing new voting changes. Before the Supreme Court's decision, 40 percent of the state's counties were subject to this "pre-clearance" process under Section 5 of the VRA.
North Carolina's measure cuts early voting and imposes a photo ID requirement, among other restrictions, and has drawn protests. It is "one of the most regressive new laws" in the nation, the Brennan Center's Myrna Pérez told The Guardian.
---
State Updates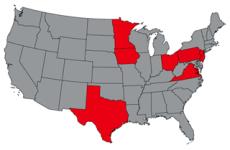 Iowa – The Iowa ACLU and the League of Latin American Citizens of Iowa are challenging the secretary of state's power to change voting rules close to an election. The rules "have created a chilling effect on the right to vote by discouraging citizens from registering and voting," the groups allege.
Minnesota – Online voter registration is now available in Minnesota. The system also allows voters to update their registration information and apply for absentee ballots.
New Jersey – A coalition of civil rights groups threatened to sue the state if it does not provide more voter registration opportunities at public assistance agencies. They contend the state is in violation of the 1993 National Voter Registration Act.
Ohio – State Rep. John Becker (R) introduced a package of bills in recent months to restrict voting, including reducing early voting and imposing a photo ID requirement.
Pennsylvania – A bipartisan group of activists are urging the legislature to pass an online registration bill. The state senate unanimously passed the measure this spring, and it currently awaits a vote in the House State Government Committee.
Texas – State officials unveiled new mobile stations to help eligible citizens obtain voter ID cards. The Brennan Center and others are challenging the Texas ID requirement, arguing it violates multiple federal laws. "The registration restrictions aim to stop certain Texans from having the voting franchise at all," argued the San Antonio Express-News.
Virginia – Gov. Robert McDonnell (R) announced a new policy in July to restore voting rights to nonviolent ex-offenders. But since then, few have applied for rights restoration. "Virginia only has the names of people currently incarcerated, but not those who have been released. They don't know where these people are," said Ladelle McWhorter of Virginia Organizing.
Click here for the Brennan Center's comprehensive list of 2013 state voting proposals.
---
Media Round-Up