Voting Newsletter: Colorado, Other States Pass Voting Reform
Latest Developments
Colorado, Others Pass Broad Voting Reforms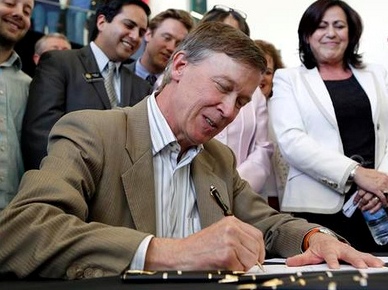 Colorado Gov. John Hickenlooper signed broad election reform legislation last week, including key elements of the Brennan Center's Voter Registration Modernization plan.
Colorado joins a growing list of states, including Florida, Maryland, and others, seeking to expand voting access this year.
Critical to the act's passage was the bipartisan support from Colorado's county clerks, the officials who actually run elections in the state. Local advocates Colorado Common Cause, Colorado Civic Engagement Table, AFSCME, and America Votes worked to advance the bill, which will upgrade the state's election system and make it easier for voters to register and keep their records up to date.
"This is a common-sense, pragmatic way to modernize elections," said Myrna Pérez, deputy director of the Brennan Center's Democracy Program. "Colorado had an opportunity to make voting more fair and efficient, and no one knew this better than the county clerks who run elections. We applaud their work in helping craft this bill, which will broaden access to the ballot. Other states should follow Colorado's lead."
Florida
Florida lawmakers also passed an election reform bill, which adds early voting days and locations. It also limits the length of ballot descriptions of constitutional amendments, which many consider to be one of the causes of long lines last November.
The Florida House passed the bill with bipartisan support, but Senate Democrats voted against it, saying it gives individual counties too much discretion in setting early voting hours and falls short of meaningful reform. The bill awaits the governor's signature.
Maryland
And in Maryland, Gov. Martin O'Malley (D) enacted a law expanding registration opportunities during early voting, extending polling place hours, and increasing access to absentee ballots. The governor said the measure was passed in response to long lines and voting restrictions. "That's why we're taking a different path in Maryland," he wrote at the Huffington Post, "a path that's guided by the simple principle that we should make it easier, not harder, for all eligible Americans to make their voices heard at the ballot box."
Meanwhile in North Carolina, Voting Rights Move Back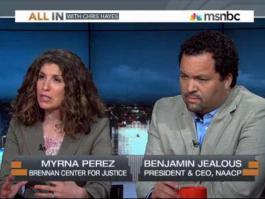 Not all the news is good. North Carolina lawmakers introduced a series of bills to cut early voting, require photo ID, eliminate same-day registration, and make it more difficult for students to register.
A "pray-in" in front of the state Senate building on April 29, objecting to the voting restrictions and other GOP initiatives, resulted in 17 arrests.
Before his arrest, Rev. William Barber, the head of the NAACP's North Carolina conference, said that "rightwing extremists in the state legislature and the governor's office are acting as if they want to go down in history as the George Wallaces of the 21st century by standing in the door of progress." He appeared on MSNBC's "All In" with Chris Hayes, along with the Brennan Center's Myrna Pérez and Benjamin Jealous, president and CEO of the NAACP.
Click here to see our full round-up of restrictive and expansive voting bills in 2013.
---
State Updates
Alabama – Citizens would have less time to register under a bill passed by the state House last week. The measure, which would push the voter registration deadline back from 10 days before an election to 17, will likely face a court challenge if enacted.
Delaware – State lawmakers removed a five-year delay for citizens with past criminal convictions to regain their voting rights "after completing their punishments." "This is a welcome reversal of a regressive policy that excluded thousands of tax-paying Americans from our democracy," said Democracy Program Director Wendy Weiser. "We hope other states will follow suit."
Iowa – The Senate rejected a bill that would have required a photo ID to vote.
Minnesota –The House passed a bill to allow voters to cast absentee ballots "without stating a reason for not voting in person on Election Day," as required by current law.
Montana – The state legislature passed a measure for a referendum on whether to retain the state's Election Day registration system. The action does not require the governor's approval.
New Jersey – Gov. Chris Christie (R) vetoed a bill to create two weeks of early voting in the state, saying it "would cost the state at least $25 million this year and millions more every year thereafter.
New York – Assembly Speaker Sheldon Silver (D) introduced a bill to institute early voting, which he said would increase voter participation and decrease poll times. "Early voting is already available in more than half the country, hugely popular, and benefits election officials and voters alike," said the Brennan Center's Diana Kasdan. "New Yorkers deserve the same." Gov. Andrew Cuomo (D) also proposed a plan to improve elections, focusing on simplifying the ballot and pre-registering 16- and 17-year-olds.
North Dakota – The governor signed a bill requiring photo ID to vote. Read more here.
Ohio – A bill was introduced that could make registration harder for college students in the state. The bill incentivizes universities not to provide the required documentation to register. Read more from Lucy Zhou at the Brennan Center blog.
Pennsylvania – Commonwealth Court Judge Robert Simpson — who is considering a challenge to the state's voter ID law — ordered the state to turn over voter and driver information to determine how many citizens would be affected by the new requirement.
South Carolina – To obtain an absentee ballot in South Carolina, a voter must offer a rationale for the request. But a new bill introduced in the state House would "limit the number of reasons" the state will accept.
Tennessee – The governor signed a bill further tightening the state's already strict photo ID law. Library cards and other types of locally-issued IDs can no longer be used for voting.
Texas – The state Senate passed a bill to allow online registration for those with valid ID's issued by the Texas Department of Public Safety. It now heads to the House.
---
New Data and Research
Charting Online Information Provided the States

A new infographic from the Pew Charitable Trusts compares what information each state furnishes to voters online. It compares categories such as listings of polling places, status of registration and absentee ballots, and local ballot information. Click here for the graphics. The report is the third in a series that "examines the effectiveness of online lookup tools and offers recommendations to improve state election websites." See parts one and two.
---
Media Round-Up
President Obama's new Commission on Election Administration has the chance to make powerful recommendations, and they should start with a plan to modernize voting, Wendy Weiser told Yahoo News. "We're using 19th-century technology for 21st-century elections," she said.
Backlash against restrictive voting laws was a significant factor in 2012, argued John Nichols in The Nation. "If Republicans are serious about reaching out to African-American voters, and to voters in other minority groups, they have to address voting-rights concerns."
To move past partisan voting wars, we must modernize voter registration, wrote former Federal Election Commission chairman and John McCain presidential campaign counsel Trevor Potter in The Atlantic. Updating the system "would offer something for everyone — conservatives worried about fraud, liberals worried about access, and small-government advocates worried about cost."
The Heritage Foundation's Hans von Spakovsky wrote an article claiming that modernizing voter registration would make registration mandatory and threaten election integrity. The Brennan Center's Jonathan Brater rebutted von Spakovsky's claims, explaining how modernization would make the rolls more accurate, cut costs, and improve election security.
Vice President Joe Biden called voting restrictions "the most immoral, callous thing that can be done" during a speech at the annual gala for the Joint Center for Political and Economic Studies. "The more they attempt to restrict the right of minorities, the greater the determination and the stronger the will to turn out, and that's exactly what everyone saw in 2012." Read more here.