May Redistricting Round-Up: Extreme Maps Finds Unfair Partisan Advantages; A Victory Against Racial Gerrymandering in NC
FEATURED STORIES
Extreme Maps are Distorting Control of Congress
Using data from the 2012, 2014, and 2016 election cycles, a new report by the Brennan Center finds that partisan bias in just a few mostly battleground states provides Republicans a durable advantage of 16-17 seats in the current Congress, representing a significant portion of the 24 seats Democrats would need to gain control of the House in 2020. The most "extreme maps" all were in states under single-party control and, with one exception, were otherwise competitive battleground states. The report finds, conversely, that maps drawn by commissions, courts, or split-party state governments had significantly less partisan bias.
U.S. Supreme Court Agrees Gerrymandering in NC was Racially Motivated
On May 22, the U.S. Supreme Court affirmed a three-judge panel's ruling that North Carolina's 2011 congressional redistricting plan was an unconstitutional racial gerrymander. The important 5-3 decision by Justice Kagan upheld the trial court's determination that race was the predominant factor motivating lawmakers when they redrew the boundaries for congressional districts 1 and 12 and rejected the state's effort to impose formalistic tests for racial gerrymandering.
The Court will now decide whether to hear argument in Harris v. Cooper, an appeal claiming that the General Assembly's 2016 remedial map—which was supposed to cure the racial gerrymander—is an unlawful partisan gerrymander.
FEATURED MAP
Redistricting Reform Legislative Efforts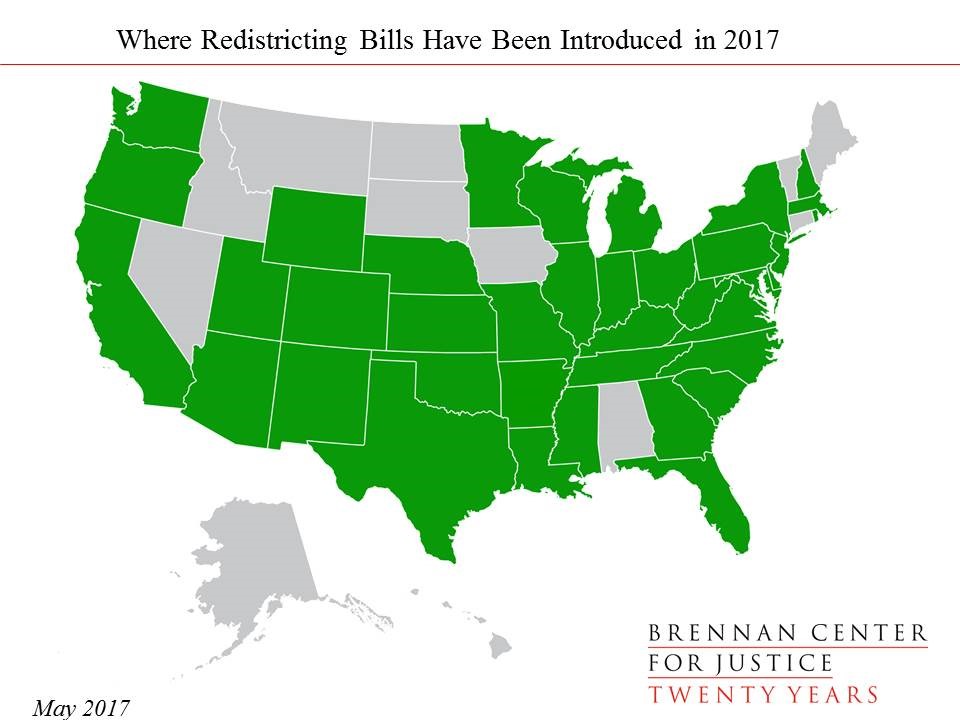 Since the beginning of the 2017 legislative sessions, nearly 150 bills that would change how redistricting is done in 2021 have been introduced in states across the country. In half the states, these bills include proposals to adopt some form of a commission (advisory, backup, or independent) to draw congressional and/or legislative districts. Our State Redistricting Reform Tracker has more detail about filed bills.
Meanwhile, citizen coalitions in Michigan, Missouri, North Carolina, Ohio, and Oregon have launched campaigns to put measures for redistricting reform in front of voters before the 2021 redistricting cycle. Our Current Citizen Efforts to Reform Redistricting has more about these ongoing efforts.
There's also effort in some quarters to have Congress reform redistricting. Members of Congress have filed legislation, for example, to mandate that congressional districts be drawn by nonpartisan commissions. Other proposals before Congress would increase public transparency in the map drawing process and prohibit mid-decade redistricting of congressional maps.
BEST OF THE REST
A New York Times editorial emphasizes the need for the Supreme Court to establish clear limits on how lawmakers draw district lines to gain partisan advantage.
On May 8, the appellees in Gill v. Whiford filed a brief asking the U.S. Supreme Court to uphold a three-judge panel's ruling that the state's legislative districts are unconstitutional. The Court is expected to decide by late June whether it will take briefing on the merits. Meanwhile, four counties in Wisconsin have passed a resolution calling for state lawmakers to transfer responsibility for redistricting to a nonpartisan commission.
In North Carolina, two partisan gerrymandering cases will go to trial before a three-judge federal court at the end of June. Both cases allege the state's 2016 remedial congressional plan was drawn with the explicit partisan intent of preserving a 10-3 Republican advantage in the state's congressional delegation.
The plaintiffs in Leach v. Arizona Independent Redistricting Commission have decided not to appeal a Superior Court judge's March ruling dismissing claims that Arizona's redistricting commission violated open meetings requirements and used improper procedures to draw the state' s congressional maps. A hearing to formally conclude the case is scheduled for July.
Princeton's Sam Wang and Brian Remlinger argue that a statistical standard that measures extreme partisan gerrymandering could help the Supreme Court identify unconstitutional partisan gerrymandering.