Latest News: Monitoring the NYPD, Same-Sex Marriage Before the Court, and more
NYC Council Speaker Backs Police Monitor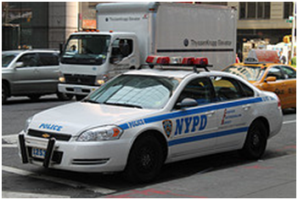 At a mayoral candidate forum, New York City Council Speaker Christine Quinn publicly supported the creation of an inspector general for the NYPD, an oversight mechanism the Brennan Center first recommended in 2012. "An independent body to investigate the NYPD's systemic abuses is long overdue," said Faiza Patel, co-author of A Proposal for an NYPD Inspector General. In a New York Times op-ed last year, Patel and Liza Goitein argued that an independent inspector general is a necessary response to the department's Muslim mapping program. Read more at the Gotham Gazette.
50th Anniversary of Gideon v. Wainwright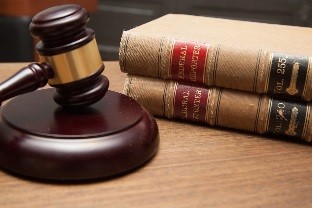 Fifty years ago this month the Supreme Court issued its landmark Gideon v. Wainwright decision, guaranteeing counsel to all criminal defendants even if they could not afford one. But "the sad truth is that there is no universal right to counsel today," wrote new Brennan Center Fellow Andrew Cohen. "It has been legislated and judicially interpreted out of existence for millions of Americans caught up in our criminal justice systems." On April 9th, the Brennan Center and The New Press will host a panel discussion (details below) to discuss low-cost reforms that will help fulfill Gideon's promise. RSVP here.
The Same-Sex Marriage Cases: Equality and the Pursuit of Happiness
With the nation's attention focused on the two Supreme Court hearings about same-sex marriage, Brennan Center Senior Advisor Sidney Rosdeitcher wrote an analysis of the arguments underlying each case. Reports indicate California's same-sex marriage ban, argued Tuesday, likely will not stand, but which rationale the Supreme Court will use is unclear. A majority of the Court also seemed skeptical of a 1996 ban on federal benefits to same-sex spouses, which the Justices considered today. The two momentous cases, Hollingsworth v. Perry and United States v. Windsor, involve the evolution of equal protection and individual rights.
Playing Offense: How to Secure Voting Rights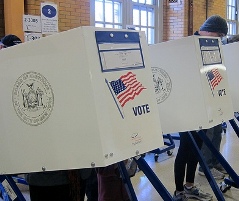 In a keynote essay in the Democracy Journal's special issue on voting, Brennan Center President Michael Waldman urged aggressive action on voting reform after restrictions and long lines marred the 2012 election. Of note, Waldman said that progressives "must put forward an agenda that addresses public concern for election integrity without disenfranchising voters," praising an idea from Nevada Secretary of State Ross Miller (D) to include driver's license photos in polling place signature books. "Details of such a plan would matter greatly. But done right, that too could point to an end to the divisive voter-ID battles of recent years." The essay also pushes modernized voter registration and a focus on swaying the courts and public opinion.
---
Making Sure Only the "Right People" Vote in Tennessee – Amanda Melillo
Tennessee enacted a restrictive law excluding student photo ID's as a legitimate documentation for voting. This month, the state Senate passed, on a bipartisan vote, a bill to allow students at the state's public universities to use their IDs for voting. But the sensible reform was blocked by a state House committee, with one lawmaker noting, "There's a public policy good in making sure that the right people are voting."
Ninth Circuit Recognizes New Rules for the Digital Age – Michael Price
A recent Ninth Circuit decision is a welcome indication that courts are finally adapting old rules for the microchip era. The panel ruled that "forensic examination" of a laptop hard drive at the U.S.-Mexico border — absent any suspicion — violated the Fourth Amendment protection against unreasonable search and seizure.
A Change of Heart on Voting Restrictions? – Amanda Melillo
In New Hampshire and Florida, the same politicians who passed restrictive voting laws in the last election cycle are reversing course. After these initiatives were thwarted by the courts in both states, lawmakers are now putting voters first.
Read more blog posts here. To have the blog in your RSS feed, click here.
---
Balancing Secrecy and Sunshine: The Future of Classification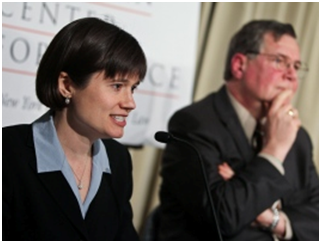 The Brennan Center hosted a panel on classification reform this month in Washington, D.C. Held during Sunshine Week, which highlights the importance of open government and the dangers of excessive secrecy, the event gathered experts and insiders to discuss prescriptions for transforming the classification system. Panelists included Liza Goitein (left), author of Reducing Overclassification Through Accountability, and J. William Leonard, former director of the Information Security Oversight Office. Read more about the gathering The Guardian. See photos and videos.
Upcoming Events
April 3 – Nicole Austin-Hillery will join members of Congress and civil rights experts to discuss voting rights and election protection at the National Action Network's National Convention in New York City.
April 5 – At the Kennedy School of Government at Harvard University, Thomas Giovanni will appear at the Black Policy Conference discussing reforms for indigent defense 50 years after Gideon v. Wainwright.
April 9 – Also to mark Gideon's 50th anniversary, the Brennan Center will co-sponsor a discussion with Thomas Giovanni, Prof. Gloria J. Browne-Marshall of the John Jay College of Criminal Justice, Karen Houppert, author of "Chasing Gideon," published by The New Press, and Jonathan Gradess, Executive Director of the New York State Defenders Association.
April 23 – Thomas Giovanni joins experts at Fordham University's Center for Ethics Education to discuss whether privatizing prisons can have a perverse effect on the actions of the police and the judiciary. CLE credit available.
---
To read more Brennan Center In The News, click here.