Latest News: Manning and Assange, Justice Dept. Enforces Voting Rights
What the Manning Verdict Could Mean for Julian Assange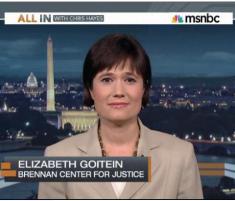 Bradley Manning was convicted of violating the Espionage Act for disclosing classified documents to WikiLeaks. But "the judge's dismissal of two of the charges against Manning could derail the Obama administration's plans to prosecute WikiLeaks founder Julian Assange for publishing the documents," wrote Faiza Patel for The New York Times Room for Debate. Watch Elizabeth Goitein (right) discuss the verdict on "All in With Chris Hayes" and read more from Andrew Cohen. More coverage here.
Justice Department Moves on Voting Rights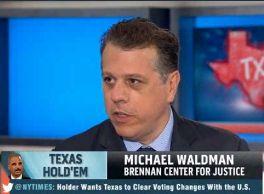 The Department of Justice moved last week to protect voters following the Supreme Court's ruling gutting a key provision of the Voting Rights Act. The first step: Attorney General Eric Holder is seeking to require Texas to obtain federal government approval before changing its voting rules. Michael Waldman (left) discussed the plan on MSNBC.
Supreme Court Must Uphold Aggregate Contribution Limits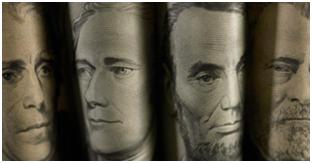 In a friend-of-the-court brief submitted in McCutcheon v. FEC, the Brennan Center last week urged the U.S. Supreme Court to uphold aggregate campaign contribution limits, the total any one donor can contribute to candidates, party committees, and PACs. Without these limits, wealthy donors would have unfettered access to and influence over elected officials, mirroring the pattern of donations to Super PACs. Oral arguments are set for October.
---
Read more blog posts here. To have the blog in your RSS feed, click here.
---
Featured Event: Community-Oriented Defender Network Conference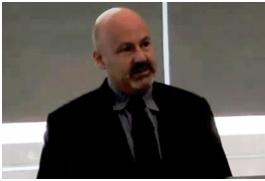 The Brennan Center hosted the 2013 Community-Oriented Defender Network Conference last week at New York University School of Law. Sessions focused on the holistic approach to indigent defense, which is a legal philosophy that addresses the needs of clients beyond the immediate criminal case. Watch the keynote address by award-winning journalist and Brennan Center Fellow Andrew Cohen (right).
September 16 – Harvard Law School Prof. Cass Sunstein will present Part I of the Brennan Center's 2013-2014 Jorde Symposium lecture at Berkeley Law School. Sunstein will discuss how regulatory agencies analyze policy costs and benefits when the benefits are not easily quantifiable.
See more events here.
---
In a close vote, the House last week rejected an amendment to halt the National Security Agency's contentious secret data collection program. "Whether the amendment succeeds or fails, the support and attention it has garnered sends a clear message to the intelligence community," Elizabeth Goitein told The Guardian.
North Carolina became the first state to enact sweeping new restrictions following the Supreme Court's Voting Rights Act ruling. At MSNBC, Keesha Gaskins calls it "mean-spirited," saying the "measures don't just harm democracy, they seem bent on curbing poll access for working people, young voters, seniors, and the disabled." Read more here.
Read more Brennan Center in the news here.