Latest News: Voting Rights Fights, Mass Incarceration in New York, and More
Latest News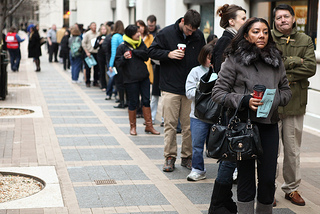 Today, the National Education Association, one of the largest unions in the U.S., urged President Obama to focus on the Brennan Center's voting proposal in his State of the Union address. Our new report, released this week, outlines a three-part plan to fix long lines at the polls. The proposal answers President Obama's call for voting reform in both his inaugural address and election-night speech. According to the study, modernizing voter registration, expanding early in-person voting, and setting minimum national polling place access standards are all cost-effective tools to prevent Americans from having to endure long waits to cast their ballots. Read more at the Huffington Post.
A Debate on How New York Reduced Mass Incarceration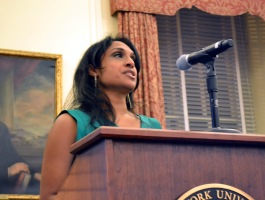 The Brennan Center hosted a panel discussion on January 30 featuring noted criminologist James Austin, Ph.D., and Michael Jacobson, President and Director of the Vera Institute of Justice and a former New York City Department of Correction Commissioner, who presented a new report about how New York reduced its incarceration rate. Justice Program Director Inimai Chettiar (left) moderated the discussion, which also included Donna Lieberman of the New York Civil Liberties Union, Heather Mac Donald of the Manhattan Institute, and Glenn Martin of The Fortune Society. More than 200 attended the event. Read this New York Times story on the shrinking prison population. See video and photos of the event. For more, read the Justice Update.
Senate Falls Short of Meaningful Filibuster Reform
On January 24, Senate leaders enacted a bipartisan package of rule changes that somewhat streamlined the body's arcane procedures. However, the lawmakers failed to enact robust filibuster reform, raising the chances that the Senate's dysfunction will continue largely undisturbed. Democracy Program Counsel Diana Kasdan criticized the deal, explaining that while the modifications may provide some minor relief, the package "does nothing to alter the abuse of silent filibusters to block votes on legislation." Jonathan Backer analyzed the anti-climactic deal. Click here to read the Brennan Center's report on Senate dysfunction.
Supreme Court Soon to Hear Two Voting Rights Fights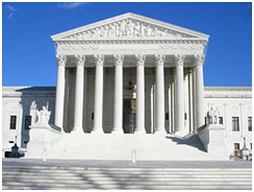 The Supreme Court will hear argument in two cases seeking to limit voting rights twice in the next six weeks.
First, on February 27, the Court will hear a challenge to the constitutionality of Section 5 of the Voting Rights Act in Shelby County v. Holder. Section 5 requires certain jurisdictions to secure federal government approval before changing voting rules. Read our brief in support of the continuing need for Section 5 here.
Less than a month later, on March 18, the Court will hear argument about a Ninth Circuit decision that struck down an Arizona law requiring more documents than Congress said was necessary for individuals to register to vote in federal elections. Read the Center's brief about federal legislators' power to override state laws when setting rules for their own elections.
---
New York Voter Registration Moves into the 21st Century – Vishal Agraharkar
After initially rejecting electronically-submitted voter registrations, Suffolk County, New York — with a population of 1.5 million — reversed course and embraced the state's new online registration system.
Controversial Queens DA Interrogation Program Ruled Unconstitutional – Roopal Patel
A New York appeals court ruled that Queens prosecutors' violated the constitution through their interrogation program.
Fourth Circuit Upholds Most of Challenged W. Va. Disclosure Laws – David Earley
The Fourth Circuit Court of Appeals recently upheld a majority of West Virginia's disclosure law in a victory for transparency in elections. The decision agreed with several arguments the Brennan Center made in an amicus brief filed in December 2011.
Tying Presidential Electors to Gerrymandered Congressional Districts will Undercut Democracy – Keesha Gaskins
Tying the distribution of electoral votes for president to the outcome of individual congressional districts would infect presidential elections with the same gerrymandering problems that plague congressional elections.
NY Attorney General Calls for Comprehensive Campaign Finance Reforms – David Earley
New York Attorney General Eric Schneiderman held a public hearing on his proposed regulations to require charities operating in New York to disclose their political spending.
Read more blog posts here. To have the blog in your RSS feed, click here.
---
Feb. 25 – The Brennan Center for Justice and the John Brademas Center for the Study of Congress will host a panel discussion in Washington, D.C. about how new digital surveillance technologies have outpaced traditional privacy safeguards, and the possibilities for reform.
---
To read more Brennan Center In The News, click here.