January Redistricting Round-Up: Redistricting Reforms and Litigation
A Look at Potential Redistricting Reforms in 2017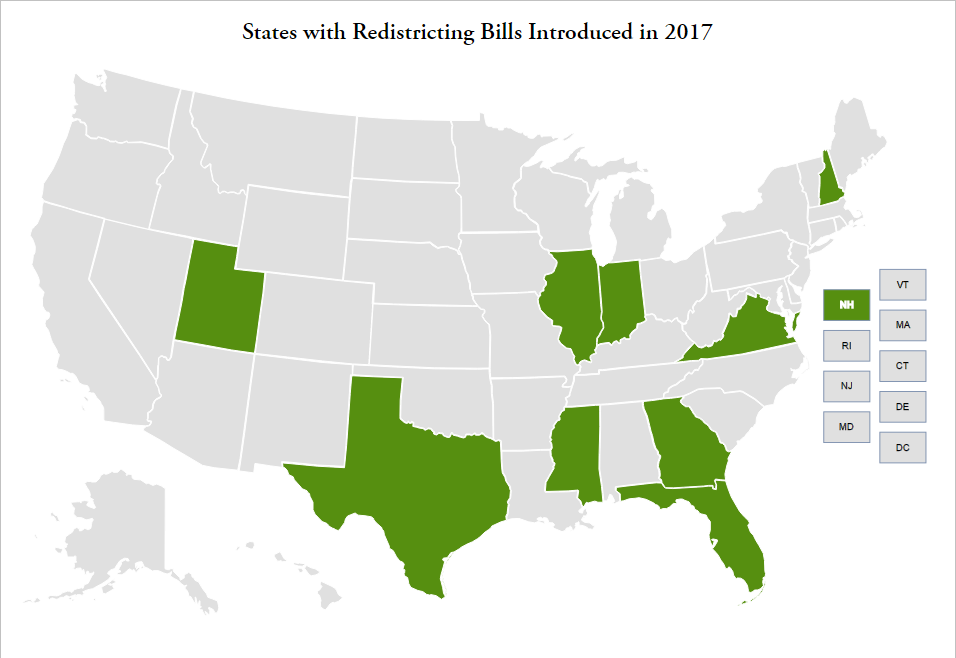 At the onset of the 2017 legislative season, nearly 40 bills addressing redistricting procedures have already been filed in state legislatures. These bills address a range of redistricting reforms, including creating independent commissions, prohibiting the use of political data for maps, and strengthening and prioritizing criteria for map drawers. In addition, lawmakers, advocacy groups, and others are mulling reforms in a number of other states. Efforts include:
Ohio
Ohio Governor John Kasich (R) wants to include congressional redistricting reform in the new state budget. In 2015, Ohio voters supported a ballot proposal creating a seven-member commission consisting of the governor, secretary of state, state auditor and two members from each legislative chamber to draw the state's legislative districts beginning in 2021. However, congressional districts are still drawn by the legislature.
Grassroots organizations are also actively working on instituting redistricting reform in the state. Fair Districts = Fair Vote, a ballot initiative led by Common Cause of Ohio and the League of Women Voters, would implement a bipartisan independent commission in charge of redistricting congressional and state legislative districts. The organizers hope to add this constitutional amendment to the 2017 ballot.
Indiana
Indiana has seen a flurry of redistricting reforms proposals after a bipartisan state study commission recommended assigning an independent redistricting commission to draw state legislative and congressional districts. Among them is a bill proposed by State Senator Michael Delph (R) establishing a nine-member commission comprised of eight legislative appointees and one retired judge who would serve as the chair of the commission. The bill also includes provisions that prohibit the use of political data for drawing maps.
Another bill filed by the chair of the study commission, Rep. Jerry Torr (R) would similarly create a nine-member commission, though five of the commissioners would be independent members, endorsed by the chief justice of the supreme court, and the presidents of Ball State, Indiana and Purdue universities. Rep. Torr's bill would also mandate that the commission hold at least one public hearing in three regions of the state.
Wisconsin
In response to a recent court ruling that determined Wisconsin's 2011 legislative map was unconstitutional, Senator Dave Hasen (D) is seeking sponsors to support a redistricting bill creating a nonpartisan redistricting commission. The proposal would give the responsibility of redistricting to the non-partisan Legislative Reference Bureau.
Follow our bill tracker to learn about the other redistricting proposals.
Redistricting Litigation Update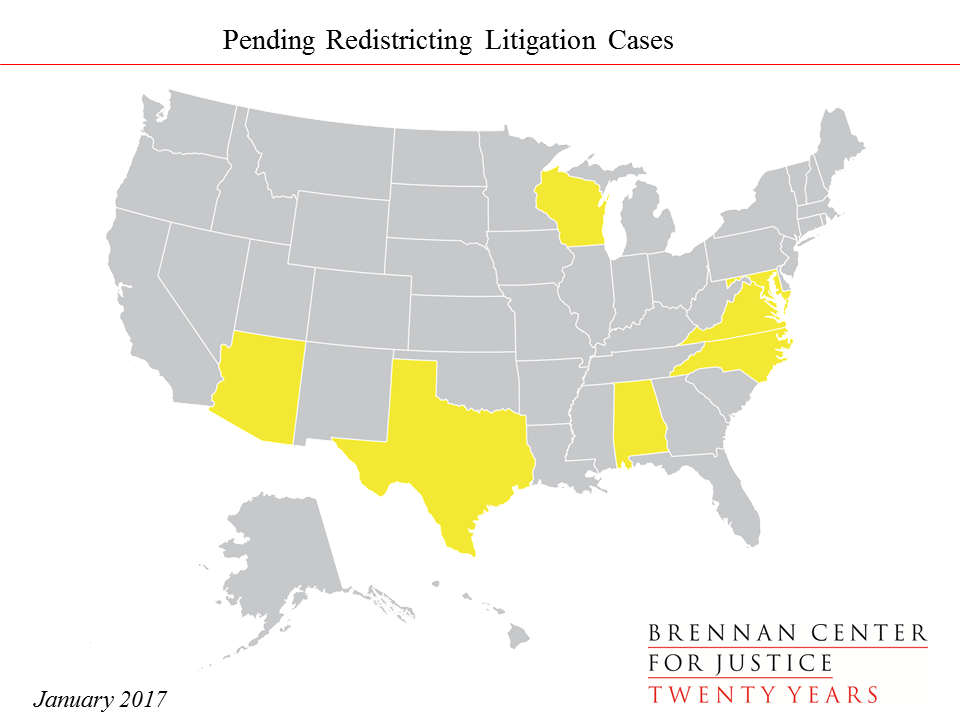 We are over halfway through the decade, and maps are still not finalized in more than half a dozen states, including in key states like North Carolina, Texas, and Wisconsin.
Cases in the pipeline include a potential landmark case at the Supreme Court on partisan gerrymandering - the first opportunity the Court will have to revisit the issue in more than a decade.
Our State of Redistricting litigation page updates the status of the redistricting cases currently before the courts.
Other News and Analysis
A draft executive order by President Trump would require that the 2020 Census contain questions asking people their citizenship and immigration status. The American Community Survey (ACS) currently asks individuals about their citizenship, but not their immigration status. The order could result in an undercount in states like Texas with large immigrant populations and impact the apportionment of congressional seats.
Former Attorney General Eric Holder launched the National Redistricting Committee earlier this month, which he said aims to address gerrymandering by investing in down-ballot Democratic candidates who will influence future redistricting legislation, advancing reforms in current redistricting litigation cases, and promoting ballot initiatives that would mandate new procedures for independent district drawing.
The City of Pasadena, Texas appealed a federal judge's ruling that the city's 2014 replacement City Council redistricting map, turning two single member council seats to at-large seats, intentionally violated the voting rights of the city's Hispanic population. The judge issued an injunction ordering the city to use the all single-member district map used in the 2013 elections for the upcoming elections in May, and submit any future changes to its electoral system for pre-clearance until 2023.
The Campaign Legal Center released an analysis demonstrating that the post-2010 redistricting cycle has seen the most extreme partisan gerrymandering than any other decade in modern American history. With three election's worth of data, the CLC saw large skews in favor of either Republicans or Democrats in state and congressional plans.
Data modeling suggests that states like Oklahoma and 11 other states scored above what the legal threshold for excessive gerrymandering under one measure of aggressive seat maximization.
Stephen Wolf of DailyKos Elections argues that one of the high points of Dr. King's legacy, the Voting Rights Act, was a significant achievement in minimizing racial discrimination in our electoral system. Even though the VRA helped create majority-minority districts that allowed minorities to elect their candidates of choice, minority voting power is still under siege as seen in the racial gerrymandering cases before the courts. Wolf argues that almost every Southern state could redraw their maps to include another majority-minority congressional district, resulting in a congressional delegation that would be more representative of the state's racial balance.