The Fair Courts E-Lert: Senate Judiciary Committee Advances 17 Judicial Nominees in a Single Day; Kansas Chief Justice Critiques Judicial Underfunding
FEDERAL JUDICIAL NOMINEES
Senate Judiciary Committee Advances 17 of President Trump's Judicial Nominees; White House Announces 12 New Judicial Nominations
Last Thursday, the Senate Judiciary Committee voted to advance 17 of Trump's judicial nominees to floor votes. Advocacy groups in the gallery wore blue shirts bearing the phrase #MonsterMarkup, to protest the number of nominations voted out of Committee in a single day.
Democrats on the Committee focused much of their opposition on Trump's nominee to the District Court for the Eastern District of North Carolina, Thomas Farr. Lydia Wheeler of The Hill explained, "Farr has faced accusations of lying to the Judiciary Committee during his confirmation hearing in September about his involvement in a scheme to intimidate black voters during Jesse Helms's campaign for a North Carolina Senate seat in 1992." Accordingly, the Committee's new members, Sen. Cory Booker (D-N.J.) and Sen. Kamala Harris (D-C.A.) unsuccessfully called for a second hearing for Farr.
Two of the 17 nominees the Committee advanced, Charles Goodwin and Holly Lou Teeter, received "Not Qualified" ratings from the American Bar Association.
The White House has continued to rapidly advance judicial nominees. On Tuesday, the White House announced Trump's tenth wave of judicial nominees-- 11 District Court nominees and 1 Circuit Court nominee.
---
STATE COURTS
Wisconsin Supreme Court Race Seen By Some as Partisan Test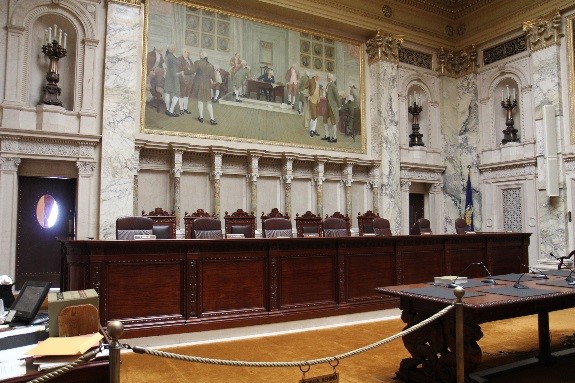 Monday, the three candidates competing for Justice Michael Gableman's seat on the Wisconsin Supreme Court sparred in a debate hosted by the Federalist Society. While the Wisconsin primary is nonpartisan, the debate saw heated partisan exchanges between the three candidates – attorney Tim Burns, Circuit Judge Rebecca Dallet, and Circuit Judge Michael Screnock.
This may be because some see the Wisconsin race as a test for Republicans and Democrats looking to gauge voter sentiment before the upcoming midterm elections. Burns himself explained, "This race will be a test of if an outright liberal and progressive message carries the day," and argued his victory "will energize the base and help build a movement towards a big November win." Dallet, meanwhile, asserted her commitment to addressing "racial and gender inequality head-on." Screnock, the conservative leaning candidate, suggested Burns and Dallet would be "political activists" on the court. While Wisconsin Supreme Court races have been politicized in the past, some observers have noted that overtly partisan statements by the candidates themselves are a new development.
---
Kansas Chief Justice Says Underfunding Creates Serious Concerns for Judiciary
Last week, Kansas Supreme Court Chief Justice Lawton Nuss, in his annual "State of the Judiciary" address to the state legislature, argued that Kansas judicial branch employees are severely underpaid, raising "serious concerns about [the courts'] ability to administer the quality of justice that Kansans have come to expect and deserve." The prior week, Governor Sam Brownback (R) revealed state budget proposals, which did not include the $20 million increase in funds the judicial branch had requested.
In his speech, Nuss pointed to alarming statistics about the Kansas judiciary to push for reform. He cited two studies by the National Center for State Courts, which found that "Nearly 1/3 of all the employee positions in our justice system still have starting salaries below the 2017 federal poverty level – for a family of four," and that "every Kansas judicial branch job classification is still below market pay rate, some by as much as 21%." Nuss argued that this inadequate compensation leads to rapid employee turnover rates, which are nearly 5 times higher than the national average. Additionally, Nuss argued that the judiciary's low salaries produced "a large drop in the number of qualified applicants for our positions."
---
New Report Recommends Reforms in Fundraising Efforts for District Attorney Races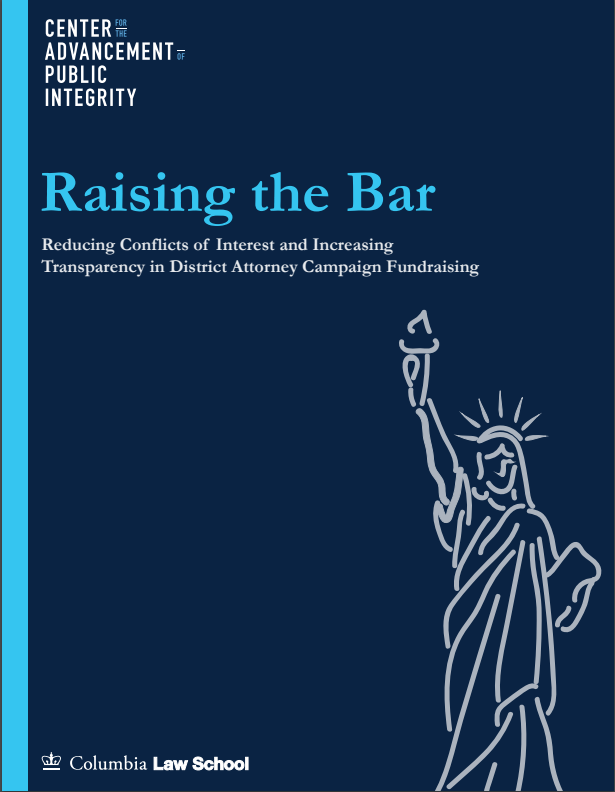 This week, a new report by Columbia University's Center for the Advancement of Public Integrity (CAPI) recommended reforms for campaign fundraising in district attorney races. Manhattan District Attorney Cy Vance requested the report last year after facing public critique for not prosecuting two cases against high profile individuals after his reelection campaign received significant contributions from their lawyers. This instance of potential conflicts of interest raised questions as to whether district attorney candidates should accept any contributions from defense attorneys.
According to Rachel Silberstein of the Gotham Gazette, New York "prosecutors rely heavily on campaign contributions from criminal defense lawyers who may have cases before their office, but, as county officials, district attorneys are not subject to New York City's stringent campaign finance rules." Contributions from defense attorneys raise the possibility of criminal quid pro quo agreements, or that "prosecutors who are aware of campaign donations might be [non-criminally] unconsciously biased in favor of their contributor," according to the report.
The CAPI report provides seven recommendations for reform, including (1) implementing a blinding process to obscure donors from candidates, (2) limiting contributions from parties with actual or potential conflicts of interests, (3) strictly separating the D.A.'s campaign from the D.A.'s office, and (4) comprehensively vetting campaign contributions.