The Fair Courts E-Lert: Dallet and Screnock Advance to General Election for WI Supreme Court; Second Nominee Advances To Floor Vote Without Blue Slip
STATE COURTS
Rebecca Dallet and Michael Screnock Advance to General Election for Wisconsin Supreme Court Seat
On Tuesday, Attorney Tim Burns, Circuit Judge Rebecca Dallet, and Circuit Judge Michael Screnock competed in the nonpartisan primary for the seat of retiring Justice Michael Gableman on the Wisconsin Supreme Court. According to the Associated Press, Screnock received 46 percent of the primary vote, Dallet 36 percent, and Burns 18 percent. As the top two vote getters, Dallet and Screnock will face off in the general election on April 3rd.
The Wisconsin supreme court currently has five conservative justices and two liberal justices, and so ideological control of the court is not at stake in this election. Nevertheless, television ads in the primary were highly politicized, with one ad from Dallet stating that Trump has "attacked our civil rights and our values," and a Burns ad asserting he would "take on Scott Walker."
Spending on television ads for the primary exceeded $470,000, according to estimates provided to the Brennan Center by Kantar Media/CMAG, with Dallet spending over $181,000 on television ads and Burns over $139,000. While Screnock did not purchase television ads in the primary, an outside special interest group, Wisconsin Manufacturers and Commerce Issue Mobilization Committee, spent over $166,000 on ads asserting Screnock "has a record of throwing the book at murderers, abusers and predators" and thanking Screnock for "keeping Wisconsin families safe."
---
FEDERAL JUDICIAL NOMINEES
President Trump's Judicial Nominees Least Diverse Since President Ronald Reagan's Nominees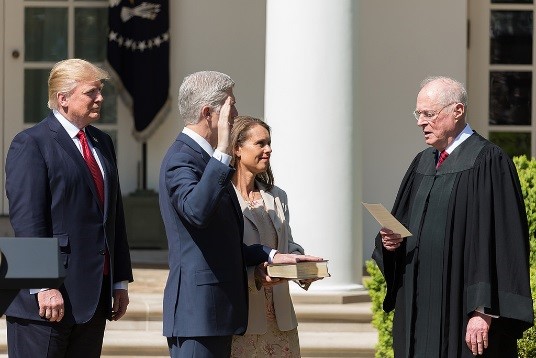 Last week, Richard Wolf of USA Today found that "Trump's 87 picks to be federal judges are 92% white with just one black and one Hispanic nominee." Trump's nominees are less diverse than the nominees of the past four presidents: Wolf notes, "[t]he demographics signal a return to the 1980s, when 94% of President Reagan's confirmed judges were white. Since then, minority enrollment in law schools has nearly tripled."
A similar analysis conducted by the Associated Press in November of 2017 found that Trump's first 58 judicial nominees were 91% white and 81% male. Catherine Lucey and Meghan Hoyer of the Associated Press noted, "If he [Trump] continues on his trend through his first term, he will be the first Republican since Herbert Hoover to name fewer women and minorities to the court than his GOP predecessor."
These nominees have the potential to significantly impact the makeup of the federal judiciary: Trump had more circuit court judges confirmed in his first year than any other president.
---
Second Nominee Advances Through Senate Judiciary Committee Without Blue Slip
The blue slip, a policy adopted in 1917, has changed over time, but, for the past 10 years, required both home state senators to submit "blue slips" in order for the Senate Judiciary Committee to consider a judicial nominee from their state. Without both blue slips, nomination proceedings halted. Blue slips worked to ensure the White House consulted with home state senators on judicial nominations.
However, the Chairman of the Senate Judiciary Committee, Chuck Grassley (R-IA), recently changed this policy. Lydia Wheeler of The Hill explains that "[l]ast month, David Stras became the first appellate court nominee to be confirmed despite missing a blue slip."
Last week, a second nominee missing a blue slip was voted out of the Judiciary Committee. Senator Tammy Baldwin (D-WI) withheld her blue slip from Michael Brennan, Trump's nominee to the 7th Circuit Court of Appeals, because "he failed to receive the requisite support from the state's bipartisan commission that vets potential candidates for federal judgeships."
Chairman Grassley argued that the White House considered Baldwin's candidates, but chose Brennan instead, and explained that missing blue slips would only preclude action on a circuit court nominee if the White House failed to consult with home state senators.
Brennan must face a full Senate vote to be confirmed.
---
Federal Judiciary Will Track Data on Sexual Harassment Complaints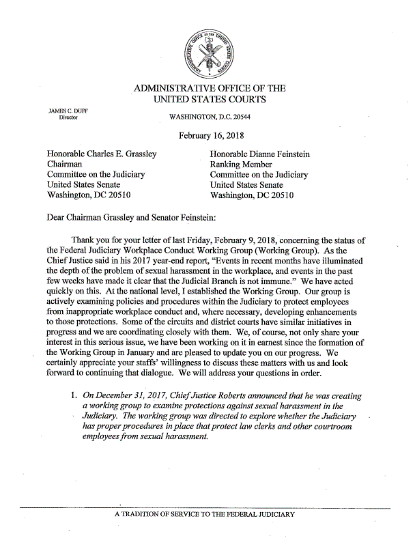 In a February 16th letter, the Director of the Administrative Office of the United States Courts wrote that the federal judiciary will begin tracking and releasing data regarding sexual harassment complaints. Matt Zapotosky of The Washington Post reports that this decision follows reports of "sexual misconduct allegations against Alex Kozinski, a once powerful and well-known judge on the U.S. Court of Appeals for the 9th Circuit," which sparked a judicial investigation and prompted Kozinski's resignation. The development also follows a CNN analysis which found that "out of nearly 5,000 judicial misconduct orders over the past 11 years, very few cases are deeply investigated and very rarely are judges disciplined."
The federal judiciary has begun adopting changes to encourage reporting of sexual harassment, and is examining implementing additional changes. Zapotosky reports that Chief Justice John Roberts announced in December that "the court would undertake an initiative to ensure there were proper procedures in place to protect law clerks and other court employees from sexual harassment." Roberts' working group will release its recommendations and findings by May 1st.