Women Unshackled: Policy Solutions to Address the Growth of Female Incarceration
Tuesday, July 18, 2017 - 9:00am
On Tuesday, July 18th the Brennan Center for Justice, in collaboration with the
Justice Action Network
and Google, co-hosted an event called "Women Unshackled: Policy Solutions to Address the Growth of Female Incarceration" in Washington, D.C. The first ever policy forum to specifically address female incarceration, the event brought together a diverse coalition of bipartisan policymakers, legislators, and criminal justice advocates that are committed to reducing the female prison population and improving the quality of life for current female inmates. Notable speakers included Senators Kamala Harris and Cory Booker, Oklahoma Governor Mary Fallin, and Representatives Mia Love, Doug Collins, and Sheila Jackson Lee. Panels also included a number of formerly incarcerated women who shared their experiences and recommendations.
Topics discussed included the devastating effects of incarceration on mothers and their families, the unique circumstances that land so many women in prison and that go largely ignored (i.e., mental health issues, histories of trauma, and untreated substance abuse), and the extreme challenges women face upon reentry. Much of this is the natural consequence of over-relying on a criminal justice system that was designed with men in mind and that traditionally leaves women out of the now hot button issue of mass incarceration.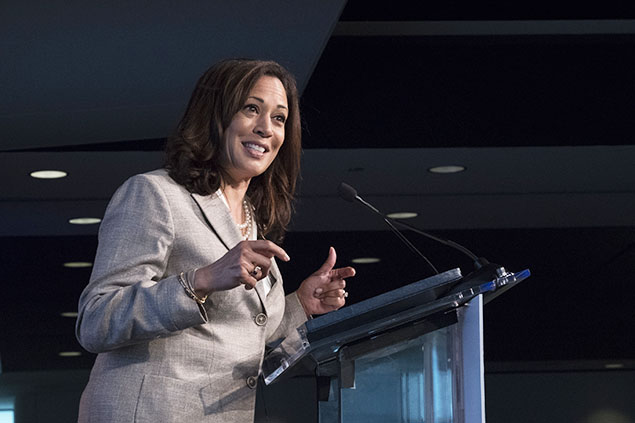 [Senator Kamala Harris (D-CA) Image credit - Justice Action Network]
Fortunately, this narrative is beginning to change. Both Sen. Harris and Sen. Booker spoke about the Dignity for Incarcerated Women Act, a bill introduced last week that aims to establish a more humane environment for incarcerated women by improving visitation policies, banning the shackling of pregnant inmates, and offering parenting classes, among other things. Governor Mary Fallin also discussed a series of programs being implemented in her home state of Oklahoma, which currently has the highest female incarceration rate in the country.
'Women Unshackled' highlighted the experience of a demographic that is too often excluded from the conversation about criminal justice reform. It also showcased strong bipartisan support for this issue.
Watch the full event.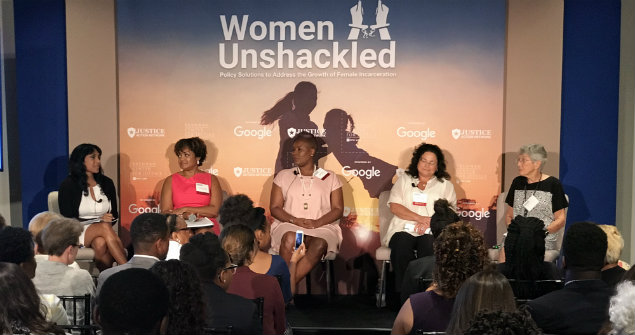 Breakout Session: What Happens to Children When Moms Go to Prison?
Moderated by the Brennan Center's Inimai Chettiar and featuring Cynthia W. Roseberry, Council for Court Excellence, Georgia Lerner, Women's Prison Association, Topeka K. Sam, The Ladies of Hope Ministries, and Judge Brenda Murray, National Association of Women Judges, Women in Prison Committee
[Credit for all images to Justice Action Network]