The State of Money in Politics
Thursday, May 7, 2015 - 6:00pm
The Brennan Center for Justice presents
The State of Money in Politics
A conversation with book authors Jeff Clements and Zephyr Teachout
and FEC Commissioner Ellen Weintraub
Thursday, May 7, 2015
6:00 p.m. - 8:00 p.m.
6:00 p.m. Registration and Reception
6:30 p.m. Program
Lipton Hall, NYU School of Law
108 West Third Street
New York, NY 10012
featuring:
Jeff Clements
Author, Corporations Are Not People
Board Chair, Free Speech for People
Zephyr Teachout
Author, Corruption in America
Associate Professor, Fordham Law School
Ellen Weintraub
Commissioner, Federal Election Commission
moderated by:
Daniel Weiner
Counsel, Brennan Center for Justice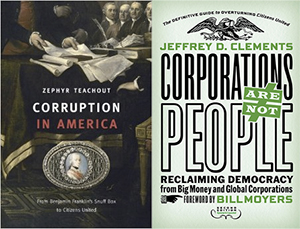 The Supreme Court's landmark decision in Citizens United v. FEC reshaped the American political landscape, giving the wealthy more power to influence elections than at any time since Watergate and opening the floodgates for dark money in U.S. elections.
Five years after the Supreme Court decision that set these trends in motion, experts and advocates — including the authors of Corporations Are Not People and Corruption in America — will discuss the state of money in politics today. What are the emerging issues and paths for reform going forward?
**Attendees will receive 1.5 CLE credits in the Areas of Professional Practice. Credit will be both transitional and non-transitional.**
Please RSVP by filling out the form below or clicking here.
If you have any questions, please contact Brennan Center Events Manager, Jafreen Uddin, at jafreen.uddin@nyu.edu or 646.292.8345.