A public conversation on Jim Crow in New York
Tuesday, March 2, 2010 - 11:00am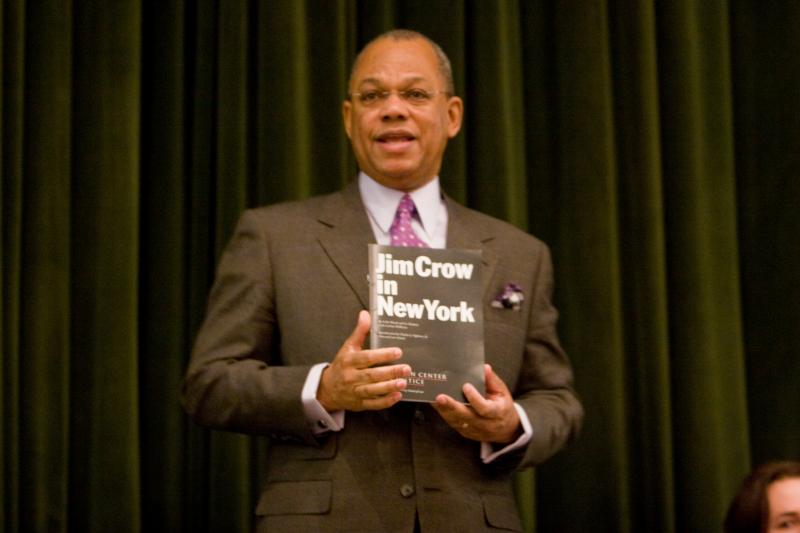 The Empire State's Current Criminal Disenfranchisement Law and a Century-Long Effort to Keep African-American Citizens Out of the Voting Booth (Read Jim Crow in New York)
Date: Tuesday, March, 2nd
Time: 6:30 PM
Location: The Schomburg Center for Research in Black Culture
515 Malcolm X Boulevard at 135th Street
Moderated by:
Erika Wood, Attorney and Author, Jim Crow in New York, The Brennan Center for Justice
With:
Reverend Dr. Calvin Butts, Abyssinian Baptist Church in the City of New York
Hazel N. Dukes, President, NAACP New York State Conference.
Glenn Martin, Associate Vice President of Policy and Advocacy, The Fortune Society
Theodore M. Shaw, Professor of Professional Practice in Law, Columbia Law School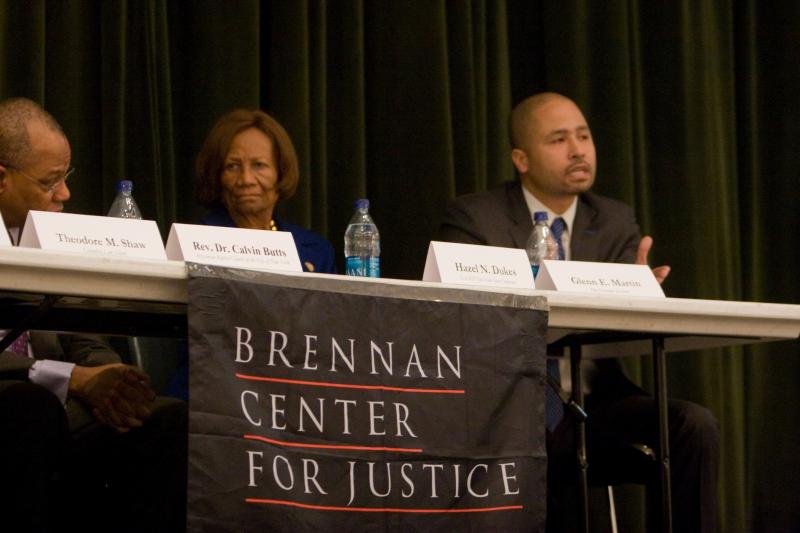 ---
Rev. Dr. Calvin O. Butts, III is Pastor of the Abyssinian Baptist Church in the City of New York, and President of SUNY College at Old Westbury. Dr. Butts was one of the founders of, and currently chairs, the Abyssinian Development Corporation, a comprehensive, community-based not for profit organization, responsible for over $600 million in housing and commercial development in Harlem. Dr. Butts was also instrumental in establishing the Thurgood Marshall Academy for Learning and Social Change – a public, state-of-the-art, intermediate and high school in Harlem, and he is the visionary behind the Thurgood Marshall Academy Lower School, which opened in September 2005. Dr. Butts is a native New Yorker. He earned a Bachelor of Arts degree in Philosophy from Morehouse College, a Master of Divinity Degree from Union Theological Seminary, and a Doctorate of Ministry Degree from Drew University.
Hazel N. Dukes is President of the NAACP New York State Conference and a member of the NAACP National Board of Directors and the NAACP Executive Committee. Ms. Dukes is a member of the Assembly of Prayer Baptist Church where she served as Executive Assistant to the Pastor, is a member of the Board of Trustees and teaches the Adult Sunday School. Ms. Dukes received a Bachelor's Degree in Business Administration from Adelphi University, and performed post-graduate work at Queens College. In 1990 she was awarded an Honorary Doctor of Laws Degree from the City University of New York Law School. Ms. Dukes is the former President of the Metro Manhattan Links Chapter, Inc. and a former trustee of the State University of New York and Stillman College. Ms. Dukes is a member of the National Council of Negro Women, Inc., and National Black Leadership Commission on AIDS, INC., Delta Sigma Theta Sorority Rockland County Alumnae Chapter and Executive Committee American Baptist Churches, USA.
Glenn E. Martin is the Associate Vice President of Policy and Advocacy at The Fortune Society, Inc. where he is responsible for developing and advancing Fortune's criminal justice policy advocacy agenda. Mr. Martin works to create partnerships with other advocates and policymakers to identify and implement criminal justice policy reform initiatives to remove practical and statutory roadblocks facing people who are working to reintegrate into society. Prior to this position, Mr. Martin served as the Co-Director of the Legal Action Center's National H.I.R.E. Network (HIRE). Mr. Martin currently serves on the Steering Committee of Reentry.net, the Correction Committee of the NYC Bar Association, the Policy Committee of ICARE, the Employment Working Group of the NYC Discharge Planning Initiative, the advisory committee of the Voter Enfranchisement Project, the Board of Directors of the College and Community Fellowship at the CUNY Graduate Center and Youth Represent at CASES.
Theodore M. Shaw is a Professor of Professional Practice in Law at Columbia Law School. Prior to this role, Professor Shaw was director-counsel and president of the NAACP Legal Defense and Educational Fund (LDF). Professor Shaw joined LDF in 1982 and became president in 2004. While at LDF, he was lead counsel in a coalition that represented African-American and Latino students in the University of Michigan undergraduate affirmative action admissions case. That case, Gratz v. Bollinger, went before the United States Supreme Court in 2003, along with Grutter v. Bollinger, which challenged the use of affirmative action at The University of Michigan Law School. Prior to joining LDF, Professor Shaw worked as a trial attorney in the Civil Rights Division of the U.S. Department of Justice. He currently serves on the Legal Advisory Network of the European Roma Rights Council based in Budapest, Hungary. Professor Shaw is the recipient of the Wien Prize for Social Responsibility from Columbia Law School; the A. Leon Higginbotham, Jr., Memorial Award from the National Bar Association Young Lawyers Division; and the Baldwin Medal from the Wesleyan University alumni body.