Lessons from Watergate for the Trump Era
Wednesday, October 18, 2017 - 6:00pm
Location:
Vanderbilt Hall, 40 Washington Square South, New York, NY 10012
6:00 p.m. - Check-in + reception with hors d'oeuvres
6:30 p.m. - Program
The Watergate scandal revealed a trail of crimes and cover-ups that ultimately changed the course of American politics. Forty-three years after President Nixon's resignation, many have drawn parallels between the Watergate era and our own. What lessons can we learn that apply to today? The Brennan Center is bringing together some of the key figures from the Watergate drama.
John Dean served as White House Counsel. His riveting testimony helped bring down the president. Elizabeth Holtzman, then the youngest woman ever elected to Congress, was a member of the House Judiciary Committee, which voted to impeach. Unpack what happened during Watergate and how it changed American politics with two of the main players from the era, and discuss what lessons we can draw for addressing abuse in politics today.
---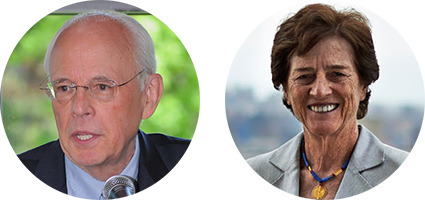 John Dean, author, The Nixon Defense: What He Knew and When He Knew It; White House Counsel, President Richard Nixon (1970-1973)
Hon. Elizabeth Holtzman, co-chair, Herrick's Government Relations Group; former member of the U.S. House of Representatives, New York (1973-1981)
Michael Waldman, President, Brennan Center for Justice at NYU School of Law (moderator)
Light refreshments will be served.
Original photo from Gage Skidmore.