Democracy's Problems and Prospects: A Book Talk with Douglas E. Schoen
Tuesday, March 17, 2015 - 12:00pm
The Brennan Center for Justice presents:
Democracy's Problems and Prospects
A Book Talk with Douglas E. Schoen
Tuesday, March 17, 2015
12:00 p.m. - 2:00 p.m.
12:00 p.m. Registration and Lunch
12:30 p.m. Program
Brennan Center for Justice
161 Avenue of the Americas, 12th Floor
New York, NY 10013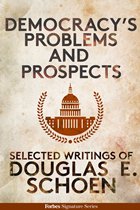 America's democracy is floundering, Congress is hopelessly gridlocked, and millions remain without gainful employment. Despite all this, longtime political strategist and polling expert Douglas E. Schoen remains optimistic.
Democracy's Problems And Prospects represents the best of Dr. Schoen's distinguished career, which he has dedicated to ensuring that democratic societies reflect the consent and the will of their electorates, and that America defends its interests as well as its values.
Please RSVP by filling out the form below or clicking here. If you have any questions, please contact Brennan Center Events Manager, Jafreen Uddin, at jafreen.uddin@nyu.edu or 646.292.8345.