The Business of America is Lobbying: A Book Talk with Lee Drutman
Wednesday, May 13, 2015 - 12:00pm
The Brennan Center for Justice presents:
The Business of America is Lobbying
A Book Talk with Lee Drutman
Wednesday, May 13, 2015
12:00 p.m. - 2:00 p.m.
12:00 p.m. Lunch and Registration
12:30 p.m. Program
Brennan Center for Justice
161 Avenue of the Americas, 12th Floor
(corner of Spring Street)
New York, NY 10013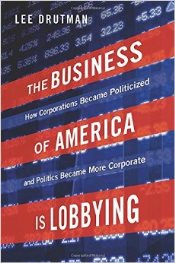 Corporate lobbyists are everywhere in Washington. Of the 100 organizations that spend the most on lobbying, 95 represent business. The largest companies now have upwards of 100 lobbyists representing them. How did American businesses become so invested in politics? And what does all their money buy?
New America Senior Fellow Lee Drutman draws on extensive data and original interviews with corporate lobbyists to provide a fascinating and detailed picture of what corporations do in Washington, why they do it, and why it matters. Join the Brennan Center for a conversation with the author of this eye-opening and timely new book.
Please RSVP by filling out the form below or clicking here. If you have any questions, please contact Brennan Center Events Manager, Jafreen Uddin, at jafreen.uddin@nyu.edu or 646.292.8345.