American Warlord: A Book Talk with Johnny Dwyer
The Brennan Center for Justice presents:
American Warlord
A Book Talk with Johnny Dwyer
Thursday, April 23
12:00 p.m. - 2:00 p.m.
12;00 p.m. Lunch and Registration
12:30 p.m. Program
Brennan Center for Justice
161 Avenue of the Americas, 12th Floor
(corner of Spring Street)
New York, NY 10013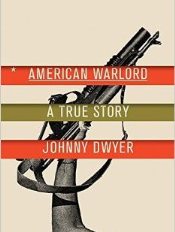 Chucky Taylor is the American son of the infamous African dictator Charles Taylor. Raised by his mother in the Florida suburbs, he followed his father to Liberia at the age of 17, where he later commanded a murderous militia. Chucky is now in a federal penitentiary, the first American convicted under the 1994 torture statute.
For the first time, reporter and writer Johnny Dwyer tells this tragic and terrifying story in American Warlord. Join us and Dwyer as he unravels this shocking and essential work of reportage.
Please RSVP by filling out the form below or clicking here. If you have any questions, please contact Brennan Center Events Manager, Jafreen Uddin, at jafreen.uddin@nyu.edu or 646.292.8345.