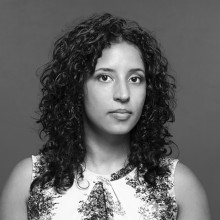 Morgan Goode
Morgan H. Goode is the director for digital marketing & advocacy at the Brennan Center. Prior to the Brennan Center, she worked was digital communications manager at FoodCorps, where she led efforts to increase brand awareness – driving digital fundraising strategy and coordination, and creating and executing seamless fundraising, advocacy, and programmatic campaigns in coordination with key stakeholders. She managed the organization's website, developed measurement systems to enhance campaigns and track progress on list growth and engagement, and worked closely with editorial and program teams to maintain brand and message consistency across digital initiatives.
Goode previously served as the campaign manager at WNET, where she also developed multi-channel digital marketing strategies to build new audiences and increase digital fundraising. Earlier in her career, she was the online communications manager at the Gay & Lesbian Alliance Against Defamation, and was the Vaid Fellow at the National Gay and Lesbian Task Force. In her off-time, Goode has worked as a board member and volunteer for a variety of social justice organizations, including Queers for Economic Justice, the Trevor Project, and the Brooklyn Residential Center for Girls.
She's a graduate of the Eugene Lang College of Liberal Arts at the New School, with a BA in Creative Nonfiction, and also holds a BFA in photography from Parsons School of Art & Design at the New School.
Stay up to date
Informed citizens are our democracy's best defense