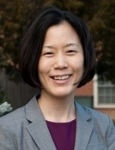 Dr. Cynthia Lum is Professor of Criminology, Law and Society at George Mason University and the Director of the Center for Evidence-Based Crime Policy. She is an appointed member of the National Academies of Sciences Committee on Law and Justice. Dr. Lum was formerly a Baltimore City police officer and detective. She and Dr. Christopher S. Koper are authors of Evidence-Based Policing: Translating Research to Practice (Oxford University Press, 2017).
Mike German, a fellow at the Brennan Center for Justice at NYU Law School, interviewed Cynthia Lum on October 15, 2014. Read an edited transcript of the full interview here.
Part 1: Evidence-based Crime Policing
Dr. Cynthia Lum explains that evidence-based crime policing is a methodology of using scientific research as an aid to improving decision making for law enforcement officers and policy makers. It utilizes scientific research and applies scientific methods of evaluation, crime analysis and surveys to look at policing policies and practices.
Part 2: Are Counterterrorism Measures Effective?
Dr. Cynthia Lum discusses the lack of scientific research conducted to evaluate the effectiveness of U.S. counterterrorism methods. She conducted a systematic review of counterterrorism research for the Campbell Collaboration and found out of many thousands of terrorism-related studies, only 7 actually evaluated counterterrorism interventions using moderately rigorous scientific methods. Lum describes the reticence of government organizations to evaluate their programs, and the difficulty for academics to gain access to classified information.
Part 3: Military Interventions Not Effective
Dr. Cynthia Lum discusses the research regarding the effectiveness of counterterrorism measures. While measures like metal detectors at airports did show some effectiveness, military interventions actually led to short-term increases in terrorism. Lum laments that academics often have to rely on terrorism-related data collected from open sources by private entities, as the government does not make data about terrorism available to researchers.
Part 4: Necessity of Evidence-based Policies
Dr. Cynthia Lum explains why evidence-based policies are necessary to reform. It promotes democratic accountability, effectiveness and fiscal responsibility. Lum also discusses the decline in clearance rates for homicides in the U.S., despite the declining homicide rates, as an example of how we need to use a scientific approach to improving policing outcomes.
Part 5: Using Police Resources Wisely
Dr. Cynthia Lum discusses the resource choices in policing, balancing the need to address everyday crime problems with rarer events like murder and terrorism, which generate public fear. Lum explains that scientific research would be helpful to ensuring resources are spent wisely.
Part 6: TSA Playbook Assessment
Dr. Cynthia Lum discusses her assessment of a Transportation Security Administration program she recently studied called the "Playbook." Lum found the tactics included in the Playbook program do have a research basis to suggest they may be effective in mitigating crime, though it is unclear they have an effect on terrorism. Whether the manner in which the TSA implements these tactics has an actual effect has not yet been evaluated.
Part 7: Is Intelligence Sharing Effective Counterterrorism?
Dr. Cynthia Lum describes the lack of research evaluating the effectiveness intelligence fusion centers, Joint Terrorism Task Forces, and other inter-agency information sharing platforms in mitigating crime or terrorism. Without such evaluations it is impossible to know whether the resources devoted to these mechanisms create improvements, or greater risks to other values like privacy, or new vulnerabilities to hackers and other threats.
Recommended Reading:
Lum, Cynthia and Leslie W. Kennedy. Evidence-Based Counterterrorism Policy. (Springer, 2012).
Report on Clearing up Homicide Clearance Rates, National Institute of Justice Journal, 2000.
Report on the Evidence-Based Policing Hall of Fame from the CEBCP.
Report on The Effectiveness of Counter-Terrorism Strategies, Campbell Collaboration Library of Systemic Reviews, 2006.
Website of the Center for Evidence-Based Crime Policy.
Website of the Global Terrorism Database.