Every state but Louisiana has begun its 2017 legislative session, and voting is proving to be a popular subject of legislation. As of March 21:
At least 87 bills to restrict access to registration and voting have been introduced in 29 states. Ten bills have passed through at least one legislative chamber in 6 states.
At least 478 bills to enhance voting access have been introduced in 43 states. Thirty bills have passed through at least one legislative chamber in 15 states.
Three states have enacted new voting laws. Arkansas passed a restrictive voter ID bill, Wyoming passed legislation to ease restoration of voting rights for people with criminal convictions, and Utah passed bills to improve voter list maintenance and expand early voting opportunities.
Continuing a trend seen in recent years, bills to expand voting access outpace those that would make it harder to vote. So far, the majority of states advancing restrictive legislation are pushing bills that try to circumvent previous court rulings or settlements that blocked strict voting laws. Bills to restrict voting have been largely divided along party lines, whereas most voter-friendly bills have received bipartisan support.
Restrictive Legislation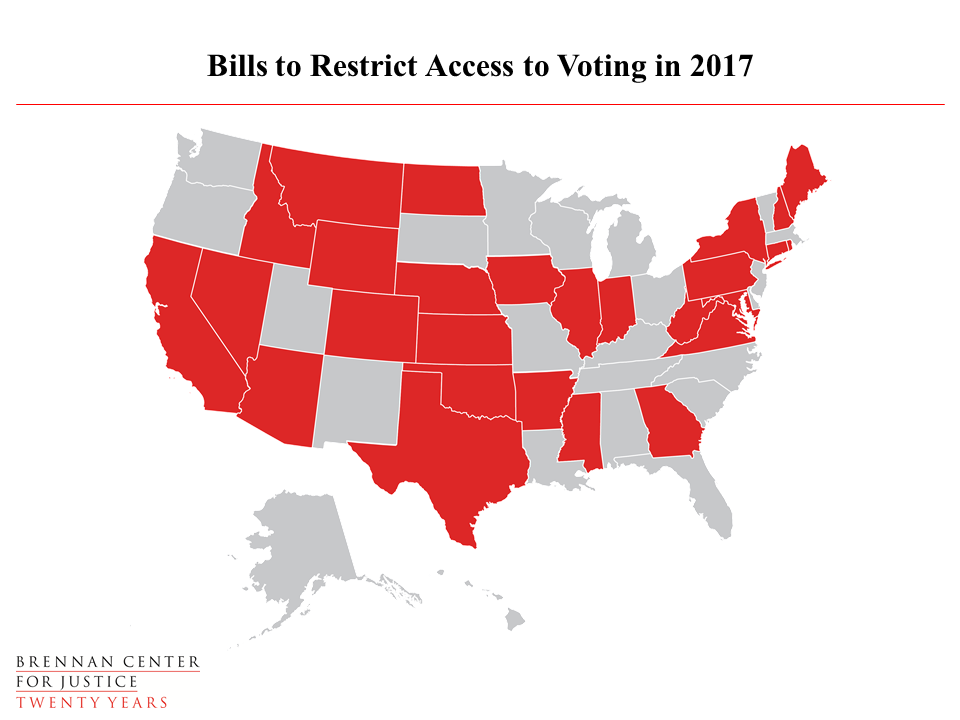 Most states moving legislation to restrict voting this session are responding to voter-friendly court rulings
Lawmakers continue to introduce bills to restrict voting in a landscape that has changed significantly over the last decade. After a relatively slow pace prior to the 2010 election,
19 states passed 27 restrictive bills
in 2011 and 2012. More followed in subsequent years, and by the 2016 election,
20 states
had new restrictions in place. That number would have been higher if not for significant pushback in the courts. State and federal panels
struck down or limited
many of the strictest laws blocking access to the franchise. Other bills went into effect only after the Supreme Court
gutted the Voting Rights Act
in 2013. The result is an environment with many new voting restrictions in place, but also significant court-imposed limits on efforts to restrict access to this most fundamental right.
Against this backdrop, state legislators are seeking to circumvent court rulings and put restrictive laws into effect:
In Arkansas, a 2014 state court ruling blocked a voter ID statute on the grounds that it violated the state constitution. On March 16, the governor signed a bill to amend the constitution to require ID. The bill now goes to the voters in the form of a ballot initiative. On March 24, he signed another bill to enact voter ID.
Georgia's Senate passed, on March 16, a bill previously approved by the House that would impose a requirement that information on voter registration forms match exactly with other state records — a burdensome process known as "no match, no vote." Only months earlier, the secretary of state agreed in a court settlement to stop a similar procedure that had prevented tens of thousands from registering.
Iowa's House passed a bill, described in further detail below, with a sweeping set of voting restrictions on March 10, and the Senate passed a different version on March 23, sending it back to the House. It includes a requirement that voters be removed from the rolls if election officials receive information demonstrating that they are noncitizens. Proper removal of ineligible voters is not problematic. However, the state's recent history in this area gives cause for concern. In 2014, a state court blocked former Secretary of State Matt Schultz from purging suspected noncitizens in a manner similar to programs in Colorado and Florida that swept up thousands of eligible voters. The court found the secretary did not have authority to implement the purge, without reaching the question of whether the purge itself was substantively illegal. If the state conveys authority to remove noncitizens through statute, another problematic purge might occur.
North Dakota's House passed a bill on February 2 that would restore a strict voter ID requirement after a federal court partially blocked it in 2016.
In Virginia, the house passed a bill on February 1 requiring documentary proof of citizenship — such as a passport or birth certificate — to register to vote. The restriction was drafted to apply only to state and local elections, however, because the Kansas law on which the bill is based has been blocked for federal elections by multiple courts.
The pace of restrictive voting legislation is consistent with recent years
Amidst worries over the potential legislative fallout from the Trump administration's baseless claims [8] of widespread voter fraud, legislative trends are thus far largely in keeping with recent sessions. Only Arkansas' bills have cleared the state capital (and one still needs to be approved by the voters before taking effect). This is similar to 2015 [9], when one restrictive bill was enacted, and 2016 [10], when two bills passed. Voter ID and restrictions on voter registration are the most popular legislative avenues for restricting access to the ballot box.
Iowa could be a notable exception. The Iowa House and Senate have passed different versions of a bill, championed by Secretary of State Paul Pate, with a broad set of voting restrictions. In addition to installing a voter ID requirement, the bill would impose restrictions on voter registration drives and hinder Election Day registration and absentee voting. The bill is reminiscent of, though less extreme than, a sweeping 2013 law [4] passed by North Carolina, which was blocked by a federal court in 2016.
Bills to restrict voter access that passed through at least one chamber in 2017:
Arkansas

Voter ID (HB 1047 [11]) (passed and signed)

Voter ID (HJR 1016 [12]) (passed house and senate; signed by governor; must be approved as ballot measure to become law)

Georgia
Voter registration (HB 268 ) (passed house and senate)
Idaho
Early voting (HB 150 ) (passed house)
Iowa

Voter ID, restrictions on voter registration drives, Election Day registration, absentee voting (HF 516 [15]) (passed house and senate; returned to house with amendments). Also contains voter list maintenance provisions that, if implemented improperly, could lead to voter purges.

North Dakota
Voter ID (HB 1369 ) (passed house)
Virginia

Absentee voting (HB 1428 [17] / SB 872 [18]) (identical bills passed house and senate)

Proof of citizenship to register (HB 1598 [19]) (passed house)

Voter registration (SB 1581 [20]) (passed by house and senate)