Voting Newsletter: Voting Rights Act Debate Continues in Congress
Latest Developments
Voting Rights Act Debate Continues in Congress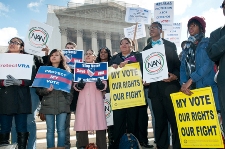 As President Obama urged Congress to honor the 50th anniversary of the Voting Rights Act (VRA) in his State of the Union address Tuesday, lawmakers are weighing the best strategy to restore the law's core protection, which the U.S. Supreme Court gutted in 2013.
Members of Congress introduced a bipartisan bill last year to modernize and strengthen the VRA. But the Senate held just one hearing on the measure, and Rep. Bob Goodlatte (R-Va.), chair of the House Judiciary Committee, refused to hold a hearing.
Last week, Goodlatte suggested the remaining provisions of the VRA were sufficient to protect against voting discrimination. Congressional leaders and voting advocates blasted his remarks.
"Chairman Goodlatte has paid no attention to the rampant voting discrimination still happening throughout the country, most recently seen in the 2014 midterm elections," said Wade Henderson of the Leadership Conference on Civil and Human Rights.
Soon after the Supreme Court's 2013 ruling, a number of states — including North Carolina, Texas, and Virginia — advanced new voting restrictions. Many of those laws are being challenged under the remaining provisions of the VRA and several judges have already ruled against them.
In Texas, for example, a federal judge found 600,000 registered voters lacked the photo ID now needed. The requirement, the judge ruled, makes it harder for minorities to vote, was enacted to intentionally discriminate against minorities, and unconstitutionally burdens the right to vote. The Brennan Center tracked stories of voters who struggled to cast ballots because of the new law.
Under the previous system, those restrictions would have been blocked before they could go into effect. Now, the new measures can remain in place until a court rules. Because many challenges move slowly in the courts, most of the voting cutbacks were in effect for the 2014 election.
---
State Updates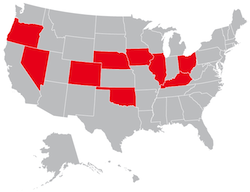 Colorado – In an interview with Colorado Public Radio, new Secretary of State Wayne Williams (R) said he supports voter ID, but since Democrats control most of the government, he would instead push for requiring those who register on Election Day to show an ID. He also discussed the state's all-mail ballot system and the need for local jurisdictions to have flexibility on election times.
Illinois – Gov. Pat Quinn (D) signed a bill this month to modernize the state's voting system. Read more background from DeNora Getachew.
Iowa – A state commission officially approved an online voter registration plan. Read more on the reform proposals from Jennifer L. Clark.
Kentucky – U.S. Sen. Rand Paul (R) urged the state legislature to pass a constitutional amendment restoring voting rights to certain citizens with past criminal convictions, calling it "simply the right thing to do." The Kentucky House approved the measure last year, but the Senate passed an alternate version and the two chambers could not come to an agreement.
Nebraska – Two different voter ID bills have been introduced in the state senate this year. Civic groups warned they would fight the laws in court if necessary.
Nevada – The GOP-controlled legislature and Secretary of State Barbara Cegavske (R) say they will make voter ID a top priority in the 2015 session.
Ohio – Secretary of State Jon Husted (R) is calling on state lawmakers to pass online registration and pushing for a "system that will enable those casting ballots by mail to track their submissions online."
Oklahoma – After seniors and veterans in his district had trouble casting ballots, a Republican state senator filed a bill last week to allow expired driver's licenses and passports as valid photo IDs for voting. Another GOP state senator introduced a package of bills to modernize the voting process, including adding online registration and early voting.
Oregon – Secretary of State Kate Brown (D) will propose a universal voter registration bill this year, saying it would add 300,000 eligible citizens to the rolls and create a seamless voting process. A similar bill failed to pass the legislature two years ago.
---
Media Round-Up
The National Conference of State Legislature's January edition of The Canvass compiled a series of expert predictions on election issues for 2015. "I don't expect to see as strong an effort to roll back voting rights this year," wrote Wendy Weiser. "Instead, I expect continued growth of a less noted but more robust trend — legislation to improve and make the voting process more convenient for voters."
On Martin Luther King, Jr. Day, Myrna Pérez joined PRI's "The Takeaway" to discuss the history of the Voting Rights Act, the Supreme Court's ruling striking down part of the law, and recent efforts to protect and expand voting in America.
At a retreat last week, GOP lawmakers advocated for more than a dozen bills they want to take action on this year, including one from U.S. Sen. Ted Cruz (R-Texas) that would require proof of citizenship to vote in federal elections, Politico reported.