Voting Newsletter: Texas Photo ID Law Heads Back to Court
Latest Developments
Texas Photo ID Law Heads Back to Court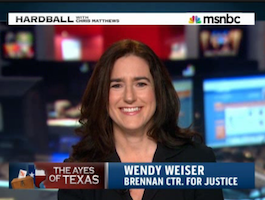 Two Texas civic groups, represented by the Brennan Center for Justice and other allies, asked a federal court to block the state's photo ID requirement, arguing it violates the Voting Rights Act and other federal laws because it makes it harder for minorities to vote.
A federal court blocked the law last year under a key provision of the Voting Rights Act. But the Texas attorney general announced he would implement the measure immediately after a June Supreme Court ruling weakened the landmark civil rights law.
"The court was right to block this law in 2012, and nothing has changed since then," said Myrna Pérez. "There are hundreds of thousands of Texas eligible and registered voters who currently don't have IDs that are acceptable under this law," added Wendy Weiser on MSNBC's "Hardball with Chris Matthews."
The suit was filed on behalf of the Texas NAACP and the Mexican American Legislative Caucus. Read more background on the case here. The Justice Department filed a similar suit against the state in August.
The attorneys representing the civic groups are the Brennan Center, Lawyers' Committee for Civil Rights Under Law, Law Offices of Jose Garza, the national office of the NAACP, Law Office of Robert S. Notzon, PotterBledsoe L.L.P., Dechert LLP, and The Law Offices of William Bonilla, P.C.
---
State Updates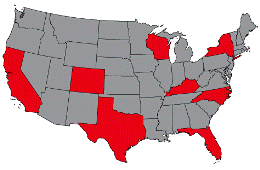 California – The 11-year-old California Voting Rights Act is leading many jurisdictions to move from electing local officials on an at-large basis to selecting them as representatives of geographic-based districts. According to the Los Angeles Times, the shift is leading to an increase in election of minorities.
Colorado – Confusion over mail-in ballots made it harder for some citizens to vote in last week's recall election, Democrats allege. Colorado voters overwhelmingly rely on mail-in ballots, but a judge last month ruled they could not be used for the recall election of two state senators. That decision was overturned 10 days before the election, but this left only four days to apply for a mail ballot.
Florida – Secretary of State Ken Detzner (R) will hold five meetings with "skeptical" election officials in October to try to gain support for his renewed effort to purge ineligible voters from the rolls. Unless carefully tailored, these actions can result in deleting duly-registered minority voters as well. Read more here.
Kentucky – U.S. Sen. Rand Paul (R) said he would push to restore voting rights to Kentuckians with past criminal convictions.
New York – Abandoning use of electronic voting devices, the New York City Board of Elections turned to ancient mechanical lever-voting machines for last week's primary election. Use of the antiquated machines caused some headaches, including when GOP mayoral candidate Joe Lhota had to vote by paper ballot after the machine in his precinct broke.
North Carolina – State Sen. Malcolm Graham (D) wrote to Attorney General Eric Holder asking the Justice Department to investigate the state's new voting restrictions.
Texas – Some local governments are changing election rules that opponents contend will harm minorities, the Houston Chronicle reported. The amendments come in the wake of the Supreme Court's June ruling in Shelby County, which weakened Section 5's requirement that these jurisdictions win federal approval for such changes.
Wisconsin – Trial is set to begin November 4 in a challenge to the state's voter ID law. Read more here.
Click here for the Brennan Center's comprehensive list of 2013 state voting proposals.
---
New Data and Research
Election Legislation 2013: Legislative Threats and Opportunities

Project Vote released an analysis of all voting legislation in state legislatures and Congress this year. The "trend toward disenfranchising legislation has not only continued but accelerated following the Supreme Court's recent ruling on the Voting Rights Act," the memo said.