Voting Newsletter: Obama Urges Voting Reform in Inaugural, the Case for Modernization, and more
Welcome to the Brennan Center's monthly voting newsletter, the most comprehensive summary of all the latest developments affecting voting. Sign up for all Brennan Center newsletters here.
---
Latest Developments
Obama Urges Voting Reform in Inaugural Address
For the second time in recent months, President Barack Obama urged voting reform in a major national address. "Our journey is not complete until no citizen is forced to wait for hours to exercise the right to vote," Obama said in his inaugural address last week. On election night, again referring to long lines at the polls, the president said, "We have to fix that." One way to help reduce long lines is to modernize registration. Read the Brennan Center's recent paper, "The Case for Voter Registration Modernization."
Voter Empowerment Act Introduced in Congress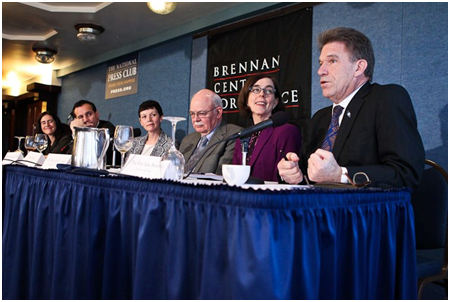 Sen. Kirsten Gillibrand (D-N.Y.) and Reps. John Lewis (D-Ga.), James Clyburn (D-S.C.), and Steny Hoyer (D-Md.) introduced tandem legislation to update the nation's antiquated voting systems.
The bills launched last week on the 49th anniversary of the 24th Amendment, which eliminated the poll tax. They closely follow the Brennan Center's longstanding recommendations for voting reform.
"The ramshackle voter registration system is a prime cause of long lines and Election Day chaos. We have a chance to modernize our elections so that every eligible citizen is on the rolls, with lower costs and greater election security," said Brennan Center President Michael Waldman. "On Election Day, President Obama said we need to fix this. Here's how." Read Waldman's Reuters op-ed on the bill.
The Brennan Center also held a National Press Club briefing in Washington, D.C. with leading secretaries of state to discuss modernizing the voting system, including voter registration. Speakers included (from left) the Brennan Center's Wendy Weiser, Hon. Ross Miller (D-Nev.), Campaign Legal Center's Beverly Hudnut, Hon. Alvin Jaeger (R-N.D.), Hon. Kate Brown (D-Ore.), and Hon. Mark Ritchie (D-Minn.). Watch video here.
Key points of the Brennan Center's Voter Registration Modernization plan:
Voluntary, automated registration of all consenting citizens when they come in contact with many government agencies.
Portable registration, which keeps voters on the rolls even when they move.
Fail-safe procedures permitting voters to correct missing or out-of-date information online or at the polls.
Federal funding for state improvements in voting technology that will result in reduced taxpayer costs.
The benefits are substantial:
It boosts election integrity, providing safeguards against hacking and curbing the potential for fraud.
It could help bring up to 50 million eligible voters into the political process.
It costs less than the current paper-based system.
Supreme Court to Hear Two Major Voting Cases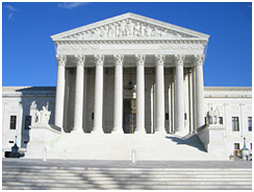 The U.S. Supreme Court will hear two major voting rights cases in the coming months. First, on February 27, is a challenge to the constitutionality of Section 5 of the Voting Rights Act. This key provision of the landmark civil rights law protects minority voters by requiring federal approval for election law changes in some jurisdictions.
Opponents of the law claim it is no longer necessary, but "the two years since the 2010 midterm election present overwhelming evidence that covered jurisdictions are not yet ready to conduct elections without federal supervision," argues William Yeomans, who spent 24 years working in the Justice Department's Civil Rights Division and is now a fellow at American University's Washington College of Law. Read more here.
On March 18, the Court will decide whether to uphold a Ninth Circuit decision striking down an Arizona law requiring additional documentation to register to vote. "Congress passed national voter registration standards to keep our elections free, fair, and accessible to all," said Senior Counsel Myrna Pérez. "The lower court recognized that goal and rightfully struck down this law. By upholding that decision, the Supreme Court will ensure every eligible citizen can make their voice heard at the ballot box."
---
State Updates
Colorado – A state judge blocked Secretary of State Scott Gessler's controversial interpretation of Colorado's mail ballot law, which jeopardized the participation of thousands of voters. Some elections in the state are conducted entirely by mail. Gessler's view was that mail ballots could be sent only to those who voted in the most recent general election, reducing the ranks of eligible voters in these contests. Read more here.
Florida – After an outcry over long lines and confusion at the polls, Gov. Rick Scott (R) called for restoring the number of early voting days. Florida reduced its early voting period for the 2012 election. The Brennan Center fought against these cuts both before and after November. Early turnout was down by more than 225,000 voters compared to 2008 and disproportionately affected minorities, according to a University of Florida study. Research also shows long lines at the polls turned away 49,000 voters in central Florida, and as many as 200,000 statewide. The Orlando Sentinel chose Deirdre Macnab — one of the leading advocates against the state's voting restrictions — as 2012's Central Floridian of the Year. Macnab, who leads the League of Women Voters of Florida, is a Brennan Center client.
Louisiana – A federal court ruled the state violated the National Voter Registration Act by not providing adequate registration opportunities at public assistance agencies.
Montana – Voter ID legislation that would have created one of the most restrictive laws in the country suffered bipartisan defeat in the Montana House of Representatives.
Nevada – Secretary of State Ross Miller (D) proposed a form of voter ID — an electronic poll book — that would allow a citizen without proper ID to have their picture taken at the polls and then use a standard ballot. "A huge benefit of an electronic poll book system is that it dramatically increases your ability to find and eliminate duplicates out of the system," Brennan Center Counsel Lee Rowland said at a UNLV forum.
North Carolina – Voter ID is a top priority for state lawmakers after a new GOP governor replaced Democrat Beverly Perdue, who vetoed the proposal in 2011.
Ohio – State senate Democrats plan to introduce a bill to increase early voting hours. The Northeast Ohio Voter Advocates released a study showing early voting was popular in both urban and rural areas, but wait times were much longer during early voting in more populous counties.
Wisconsin – This spring's state Supreme Court race could determine the future of Wisconsin's voter ID law, the Milwaukee Journal Sentinel reported.
Virginia – In his annual State of the Commonwealth Address, Gov. Bob McDonnell (R) called for a state constitutional amendment to automatically restore voting rights to some citizens with past criminal convictions, but a House committee killed the proposal. The Washington Post criticized the committee, and called on the GOP to increase voting opportunities by allowing early voting and more access to absentee ballots.
---
Media Round-Up
Under a new plan by Republicans in Michigan, Ohio, Pennsylvania, Virginia, and Wisconsin, presidential electoral votes would be awarded by congressional district rather than the traditional winner-take-all approach. Virginia Gov. Bob McDonnell (R) and several GOP state lawmakers oppose the measure. Watch Michael Waldman discuss the proposal on MSNBC. Listen to FairVote's Rob Richie on NPR's Diane Rehm Show. Read more here and here.
After an unprecedented wave of restrictive voting laws in 2011 and 2012, some state legislators are preparing for a new assault this year. "There are a number of states where there's clearly active legislative attempts to make their voter ID laws more restrictive," Democracy Program Director Wendy Weiser told Politico. "This is not an issue that has gone away."
At Slate, Mark Vanhoenacker discussed how poorly-designed ballots "could have bungled the 2012 election" and "how we can fix them before 2016." View a slideshow of ballots of various nations.
The U.S. Supreme Court "turned down a plea by the national Republican Party to free it from a three-decades-old court order that limits its rights to challenge voters' qualifications." More background on the 30-year-old consent decree here.