Justice Update: New Mass Incarceration Report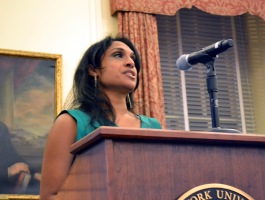 A new report from the Vera Institute of Justice, the JFA Institute, and the Brennan Center examines how New York State reduced its entire correctional population over the past 20 years. Authored by leading criminologists Dr. James Austin, expert witness in the landmark Supreme Court Brown v. Plata case, and Dr. Michael Jacobson, director and president of Vera, the report explores the connection between the drop in the New York's correctional population and the drop in the crime rate. The New York Times quoted Jacobson on this shift: "[T]he 50,000-foot story from New York is that you can drive down crime while decreasing your jail and prison population – and save a huge amount of money in the process."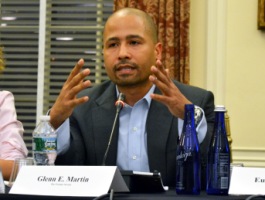 Last week, Inimai Chettiar, author of the report's foreword, moderated a debate featuring the reports' authors as well as experts from diverse perspectives, including Donna Lieberman of NYCLU, Heather Mac Donald of the Manhattan Institute, Glenn Martin of the Fortune Society, and former NYPD officer Eugene O'Donnell. Panelists deliberated what factors drove down New York's correctional population and crime, and whether the benefits of the report's offered policing model is worth its costs. Brennan Center President Michael Waldman concluded the event by affirming the Brennan Center's ongoing commitment to ending mass incarceration as an institutional priority.
Watch a video of the event. For more on New York's drop in correctional population, read this article in the Wall Street Journal and this article at Vera's Cost Benefit Knowledge Bank on quality versus quantity of policing.
In The Nation, Chettiar urges policymakers to draw lessons from the failed War on Drugs campaign as they craft laws to combat gun violence. Emergent gun control champions "have resurrected the War on Drugs' cries for 'mandatory minimums'" and have proposed funds to law enforcement without providing guidelines. Yet research shows this strategy "will not guarantee reduced gun violence or crime. Instead, it increases the likelihood that police go after low-level crimes to increase arrest numbers instead of chasing gun shooters," writes Chettiar. If we do not analyze the consequences of our actions, "[g]un laws passed today to stop tomorrow's suburban school shooter may well end up incarcerating more generations of young inner-city black men."
On CNN's OutFront with Erin Burnett, Waldman lauded one effective policy: the President's proposal to resume data collection on the causes of gun violence. "In the heat of this moment we should do everything we can to prevent gun violence, but we want to make sure we're using the facts. We want to make sure we're not just moved by emotion," said Waldman. "If we don't want to make the mistakes we made in the War on Drugs, we need to have this research."
On February 5, Mark Ladov argued before the First Circuit Court of Appeals in support of Rhode Island's court program that helps homeowners and lenders negotiate successful ways out of foreclosure. Rhode Island, like much of the nation, continues to grapple with the enormity of the foreclosure crisis," Ladov said after arguments. "Facing hundreds of lawsuits, and the possibility of many Rhode Island families losing their homes, the federal court set out an efficient and equitable solution…We hope the Court of Appeals will encourage this important work to continue."
Listen to the oral argument and read the Brennan Center's amicus brief, co-authored by Ladov and Matt Menendez, along with the National Consumer Law Center and Rhode Island Legal Services.
---
WBAI and The Crime Report covered the Brennan Center's debate on how New York reduced mass incarceration.
Roopal Patel writes for The Huffington Post about a recent New York appeals court ruling striking down an unconstitutional interrogation program in Queens. Read the amicus brief against the program.
The National Law Journal covered Tuesday's oral argument, quoting Mark Ladov's statement that "the program that has been created is based on best practices around the country." Last month, Ladov discussed the national mortgage settlement for the Minnesota Star Tribune.
---
---
Want to help the Justice Program end mass incarceration? We are now hiring for the following positions:
See all of the Brennan Center's openings here.