2013 Jorde Symposium: Lawrence Lessig
Harvard Law School Professor Lawrence Lessig delivered the 2013 Brennan Center Jorde Symposium lecture at Berkeley Law School on January 29. Joining him were Professor Bruce Cain of Stanford University and Professor Guy Uriel-Charles of Duke Law School. The Brennan Center Jorde Symposium, an annual event, was created in 1996 to sponsor top scholarly discourse and writing from a variety of perspectives on issues that were central to the legacy of William J. Brennan, Jr.
Lessig on the Corrupting Influence of Money on Policymaking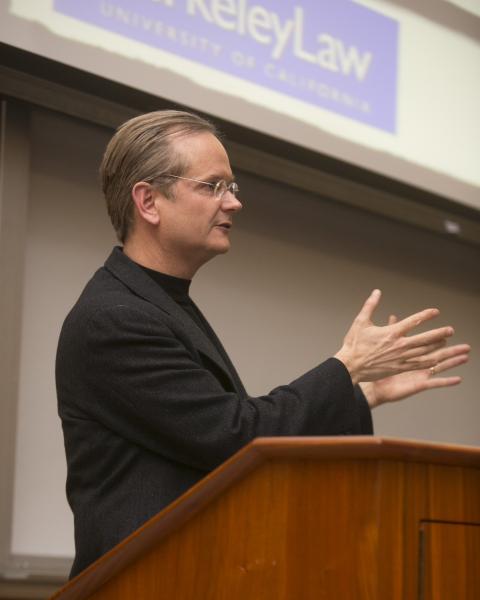 Professor Lessig, known to techies across the world as an advocate for open sourcing on the Internet and the founder of Creative Commons, attracted an overflow crowd of Berkeley Law students, faculty, and alumni as well as supporters from his new activist group, the RootStrikers.
Lessig began by expressing his growing concern that our political system is not working. Unlike our digital devices, Lessig argued, our political system is unable to "update" itself to work and address problems more efficiently than in the past. In the midst of great progress in the world of technology and intellectual property, Congress has not kept pace. Instead, Lessig described the series of wrong-headed policies on copyright and intellectual property emanating from Congress in recent years, beginning with the Sonny Bono Copyright Term Extension Act of 1998, which granted lengthy retroactive extensions of copyright protections—a windfall to corporate copyright holders.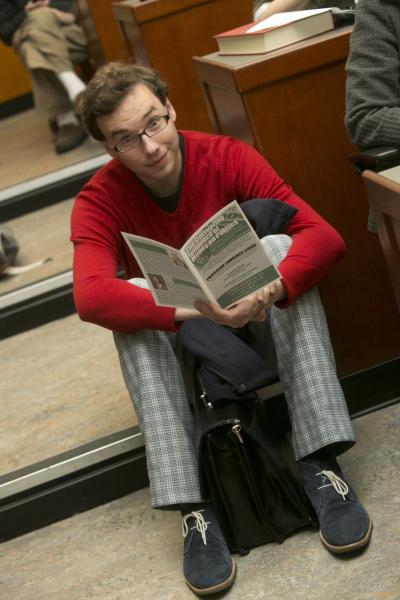 Lessig said he was inspired to address the larger issue of the corrupting power of money in the political system in 2007, after first meeting Aaron Schwartz, the internet activist who recently took his own life. Lessig described a long evening of conversation with Schwartz about the Internet and open access. Towards the end of the discussion, Lessig said Schwartz asked "how do you deal with issues you care about in the face of so much corruption?"
Lessig explained that the concern is not corruption in the traditional criminal sense, but systemic corruption. He described how Congress has become dependent upon a small handful of donors to fund their campaigns, and the pressure this creates to "bend" their policymaking in a way that makes fundraising easier. Senate filibuster rules enable a single senator to unilaterally stall timely movement of even the most important legislation. Abuse of these rules by Senators—who keep their donors' interests in mind—contributes to the current "economy of no" in Washington.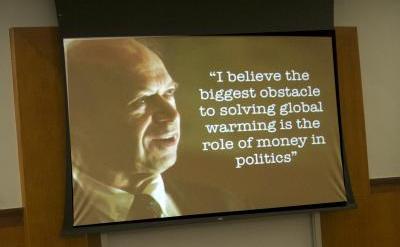 To strike at the root of this systemic corruption, Lessig proposed citizen-funded elections in the form of a publicly funded voucher system to incentivize candidates to speak and appeal to more citizens, not just wealthy donors. Getting Congress to pass reforms will not be easy. To encourage Congress to act, Lessig called for a non-partisan, exopolitical movement—a movement free from the rhetoric of class and political divide. He cautioned that it is too easy to blame insiders and the corrupt for the current situation—rather, it is long years of passivity by all of us that is to blame.
Bruce Cain: Lessen the Influence of Biggest Donors by … Having More Big Donors
A unique feature of the Jorde Symposium is that each year, the lecture is followed by remarks from a pair of prominent commentators. One commentator, Professor Cain of Stanford University, favored a pluralist solution to the problem of systemic corruption in campaign finance as outlined by Lessig. Cain argued that a voucher system would present implementation difficulties and might have the unintended consequence of empowering bundlers—political entrepreneurs, who could gather vouchers together and thus wield outsized influence.
Instead, Cain said we should look for solutions that would create a larger number of participants and intermediaries as a means of diminishing the influence of any single person. One of his recommendations is to rethink the current system of disclosure of political contributions. Too many voters chose to contribute amounts below the legal disclosure limits, avoiding having their names made public. Cain argued that $2500 is too small an amount to ever corrupt a political or result in "bending," but is nonetheless well above the amount that requires disclosure of the contribution (currently $150 for federal elections). While disclosure of aggregate contributors can be important information for voters, liberals too often want to use these laws to punish or shame contributors. Cain argued that a system of giving each contributor a unique contributor ID number and gathering relevant information to attach to the number might have the effect of bringing more $2500 contributors into the system.
Guy Uriel-Charles: Congress Could Forge Solutions to These Problems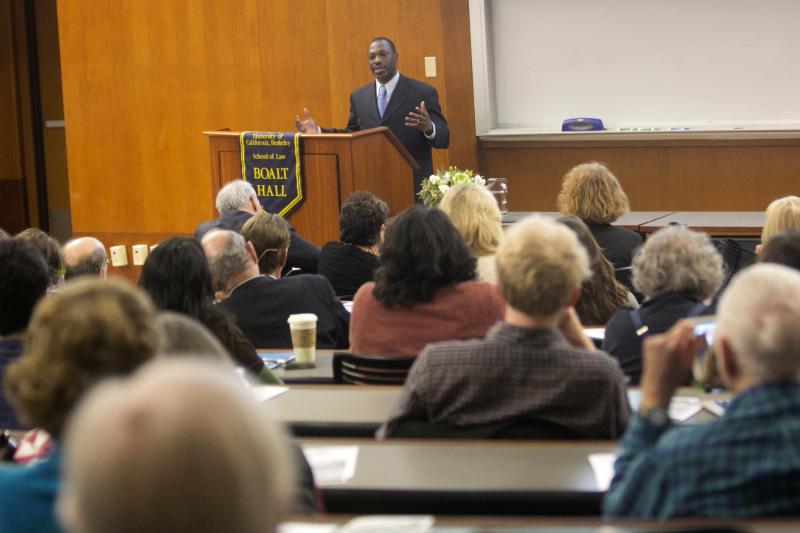 Professor Charles began by commending Lessig for taking on the challenge of balancing the roles of academic and citizen activist. Charles stated he also favors a pluralist approach to campaign finance reform, but argued that Congress itself might be able to craft solutions. It was not so long ago, in 1974, that Congress was able to enact bipartisan comprehensive legislation, when it set statutory limits on contributions to federal candidates and created the Federal Election Commission and the presidential public funding system. These reforms were meant to address both the supply and demand for campaign funds and, Charles argued, Congress sought to assure the public that elections were fair and equal. But in the years since these reforms, through a series of decisions, the Supreme Court has taken a hatchet to the concept of "equality" and instead has ruled that only the threat of quid pro quo corruption is a constitutional rationale for limits on political donations and spending. Charles noted that this is a vision that does not fit with the citizens' view of the need for campaign finance reforms right now.
Charles proposed several structural solutions to this problem, including increasing the supply of donors to reduce the relative value of any individual donor. He proposed strengthening political parties by allowing them to raise larger sums than other groups and allowing them more leeway to coordinate with candidates. He also proposed allowing in-district donors to contribute more than out-of-district donors, reducing the time lawmakers spend on fundraising. Another fix would be to reduce the number of elections, by extending the term of House members, for example, freeing them from the cycle of two-year campaign fundraising.
It was a great evening of conversation and debate. Please join us at the next Brennan Center Jorde Symposium. Cass Sunstein will be the 2013/2014 lecturer, watch for details on the Brennan Center Events page.
---
About the Authors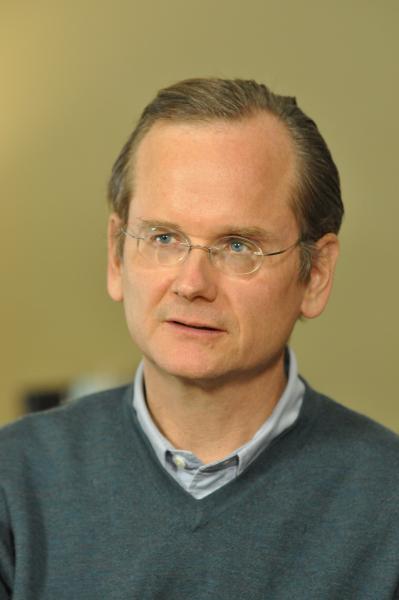 Lawrence Lessig is the Roy L. Furman Professor of Law and Leadership at Harvard Law School, director of the Edmond J. Safra Center for Ethics at Harvard University, and founder of Rootstrikers, a network of activists leading the fight against government corruption.
He has authored numerous books, including Republic, Lost: How Money Corrupts Our Congress—and a Plan to Stop It and One Way Forward: The Outsider's Guide to Fixing the Republic. Lessig serves on the Board of Creative Commons, MapLight, Brave New Film Foundation, The American Academy, Berlin, AXA Research Fund and iCommons.org, and on the advisory board of the Sunlight Foundation. He is a Member of the American Academy of Arts and Sciences, and the American Philosophical Association, and has received numerous awards, including the Free Software Foundation's Freedom Award, Fastcase 50 Award and being named one of Scientific American's Top 50 Visionaries.
Lessig holds a BA in economics and a BS in management from the University of Pennsylvania, an MA in philosophy from Cambridge, and a JD from Yale. Prior to rejoining the Harvard faculty, Lessig was a professor at Stanford Law School, where he founded the school's Center for Internet and Society, and at the University of Chicago. He clerked for Judge Richard Posner on the 7th Circuit Court of Appeals and Justice Antonin Scalia on the United States Supreme Court.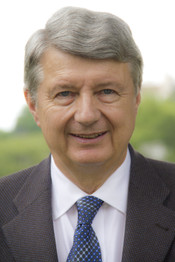 Bruce E. Cain is a Professor of Political Science at Stanford University and Director Designate of the Bill Lane Center for the American West.
He received a BA from Bowdoin College (1970), a B Phil. from Oxford University (1972) as a Rhodes Scholar, and a Ph D from Harvard University (1976). He taught at Caltech (1976-89) and UC Berkeley (1989-2012) before coming to Stanford. Professor Cain was Director of the Institute of Governmental Studies at UC Berkeley from 1990-2007 and Executive Director of the UC Washington Center from 2005-2012. He was elected the American Academy of Arts and Sciences in 2000 and has won awards for his research (Richard F. Fenno Prize, 1988), teaching (Caltech 1988 and UC Berkeley 2003) and public service (Zale Award for Outstanding Achievement in Policy Research and Public Service, 2000). His areas of expertise include political regulation, applied democratic theory, representation and state politics. Some of Professor Cain's most recent publications include "Malleable Constitutions: Reflections on State Constitutional Design," coauthored with Roger Noll in University of Texas Law Review, volume 2, 2009; "More or Less: Searching for Regulatory Balance," in Race, Reform and the Political Process, edited by Heather Gerken, Guy Charles and Michael Kang, CUP, 2011; and "Redistricting Commissions: A Better Political Buffer?" in The Yale Law Journal, volume 121, 2012. He is currently working on a book about political reform in the US.

Guy-Uriel Charles is the founding director of the Duke Law Center on Law, Race and Politics.
He is an expert in and frequent public commentator on constitutional law, election law, campaign finance, redistricting, politics, and race. Professor Charles received his JD from the University of Michigan Law School and clerked for The Honorable Damon J. Keith of the United States Court of Appeals for the Sixth Circuit. While at the University of Michigan, he was the founder and first editor-in-chief of the Michigan Journal of Race & Law. From 1995-2000, he was a graduate student in political science at the University of Michigan. He joined Duke Law's faculty in 2009; he previously was the Russell M. and Elizabeth M. Bennett Professor of Law at the University of Minnesota Law School. Professor Charles is co-founder of the Colored Demos blog, and a reviewer for Stanford University Press, University of Chicago Press, and NYU Press. He has published articles in Constitutional Commentary, The Michigan Law Review, The Michigan Journal of Race and Law, The Georgetown Law Journal, The Journal of Politics, The California Law Review, The North Carolina Law Review, and others. A past member of the National Research Commission on Elections and Voting and the Century Foundation Working Group on Election Reform, Professor Charles has served as the director of the Institute for Law & Politics, a Senior Fellow in Law and Politics at the Institute on Race and Poverty, and a Law School Faculty Affiliate at the Center for the Study of Political Psychology, University of Minnesota. Guy-Uriel Charles is the founding director of the Duke Law Center on Law, Race and Politics.
---
About the Jorde Symposium:
The Brennan Center Jorde Symposium, an annual event, was created in 1996 to sponsor top scholarly discourse and writing from a variety of perspectives on issues that were central to the legacy of William J. Brennan, Jr.
The Brennan Center named the Symposium in honor of its major benefactor Thomas M. Jorde, former Brennan clerk and Professor of Law at the University of California at Berkeley, Boalt Hall. A unique feature of the Symposium is that, each year, the honored lecturer presents the same lecture at two different sites, one in the fall, and another in the spring, with a different pair of prominent commentators at each site. The fall lecture is typically held at the University of California at Berkeley, Boalt Hall, where Tom Jorde taught for many years. The spring lecture is at a different law school every year. Both lectures and the four commentaries are published annually in the California Law Review.
See past Jorde Symposia.