Priority Issues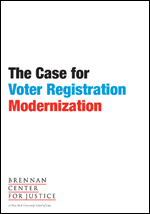 The Brennan Center works tirelessly to advance vital, national election reforms that protect and enhance our democratic system by expanding voter participation and curbing the influence of money in politics.
The nation's broken voting system is a chief cause of long lines and Election Day chaos. A new Brennan Center proposal outlines a three-part plan to bring the voting system into the 21st century through voter registration modernization, more early voting opportunities, and minimum national standards for polling place access. Our signature proposal, Voter Registration Modernization, would harness proven technology to ensure that every eligible voter is permanently registered. The move would add 50 million to the rolls, cost less, and curb the potential for fraud. The Voter Empowerment Act, based in part on our plan, was introduced in both the Senate and House in 2013.
To counter the outsized role of big money in politics after Citizens United, the Brennan Center has a plan to boost the power of small donors in federal elections. The proposal would provide multiple matching funds for small gifts and give ordinary voters a far louder voice in presidential and congressional elections. House Democrats introduced a similar proposal with the Empowering Citizens Act.
Learn more about other Brennan Center research, publications and proposals for election reform here.
---
Tracking Election Reform Activity in Congress: